Regency Furniture Launches Niche Cubo Featuring Lockdowel-Easy-Assembly Online at Staples, Walmart and Amazon
Regency Furniture announces Niche Cubo with easy-to-assemble, snap-together Lockdowel fastening in wood-finished cubes that stack into various designs and a variety of color totes. Available now online at Staples, Amazon and Walmart.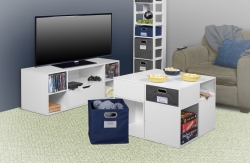 Akron, OH, April 28, 2017 --(
PR.com
)-- Regency Furniture, the makers of affordable, beautiful office furniture, announces their new Niche Cubo for everyone seeking attractive, modular storage furniture that is easy to assemble. The Cubo incorporates the easy-to-assemble, snap-together Lockdowel fastener technology in attractive wood-finished cubes that stack into various designs with a variety of color tote accents. It is fast becoming the storage furniture of choice. The Niche Cubo is priced affordably on Amazon, Walmart.com, Staples.com, Overstock and most major online retailers. See the complete Regency Niche line at: http://www.mynichefurniture.com
"Since Lockdowel assembly is so simple to put together it is perfect for our new Niche line," CEO and Regency President John "Skip" Summerville says. "Our Niche line is the answer for home, office and storage challenges. Cubo snaps together quickly right out of the box and then fastens together into hundreds of configurations. From a single cube to sets of 12 or more, the possibilities are endless!"
Regency has had positive feedback from Amazon customers and expects the same for the entire Niche line:
"These are so easy to put together. You don't need any tools - they basically just snap together." -Jami
"These are just perfect for my cedar-lined closet. I put them together within an hour. Really easy. Very happy with this product." -C Mcdowel
"Excellent quality easy to put together!" -Kelly57
About Niche
The Regency dream began in 1940, when Scott and Norma Summerville opened their own office products business. Times changed, and the company changed too – adding one of the first office furniture showrooms and becoming one of the first sources for mid-market furniture in Northeast Ohio.
Norma stepped down as president in 1987 and was succeeded by her son and the company's current president, John "Skip" Summerville. It is Skip who saw a need in the office furniture market for a source of good quality products at an affordable price. Unable to find the source, he decided to become it! And by doing so, this family business entered a new chapter becoming Regency, Inc. – your complete source for office furniture.
The Regency family has grown again with the creation of the Niche line. Built around the concept of easy-to-build home furnishings, Niche is perfect for any room of the house, dorm or lounge. The Niche product line features Lockdowel tool-free assembly. Including modern lightweight seating tables and desks and now Cubo modular storage cubes. "Let your imagination run wild with Niche!" Find out more at: www.mynichefurniture.com
About Lockdowel
Lockdowel provides fasteners, drawer slides and hinges for fast and easy installation of cabinets, furniture and architectural millwork. Patent pending. Lockdowel 48834 Kato Road #110A Fremont, CA 94538, (650) 325-8732 www.lockdowel.com
Contact
Mary Lynn Heath, PR
Mary Lynn Heath
405-641-9733
www.lockdowel.com

Contact