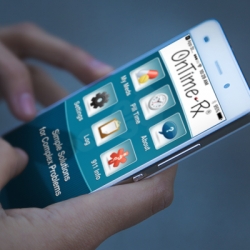 Summit, NJ, May 08, 2017 --(
PR.com
)-- Arteric (http://arteric.com), a healthcare marketing agency built on a foundation of state-of-the-art software engineering, today announced that Baylor College of Medicine is implementing OnTimeRx® Automated Reminder Service in a pilot study[1] investigating the efficacy of smartphone-based services to improve medication adherence. The study is funded by The Lone Star Stroke Consortium, which is a Texas-based collaboration of major stroke centers, and the Texas Nursing Association-District 9.
OnTimeRx® Automated Reminder Service provides Web-based reminder-scheduling and notification messages that are delivered by text message, phone call or email. Developed by Arteric President Hans Kaspersetz and pharmacist Susan Torrico, a pioneer in the field, OnTimeRx® Automated Reminder Service is the most recent addition to the OnTimeRx® adherence software collection.
Other OnTimeRx® adherence products include apps for the iPhone® and iPad®, for
Android™ smartphones, and for Windows® desktop computers. These software apps provide reminders in the form of alarm sounds and/or on-screen notices as an alternative to text messages, phone calls or email.
According to study researcher Vanessa Monroe, Clinical Assistant Professor at Prairie View A&M University College of Nursing and PhD Candidate at Texas Woman's University-Houston, "African American women have significantly higher levels of hypertension as opposed to non-African Americans.[2],[3] Medication nonadherence can cause these women to develop a decreased threshold for stroke development or an increased progression of cardiovascular disease. We're very interested in determining if the automated phone and email reminders sent by OnTimeRx® improve medication adherence in this at-risk population." Monroe continued, "Preliminary results from a very small patient population look promising. We're in the midst of adding more patients to the study."
According to Ms. Torrico, a career pharmacist, "I've always been a proponent of medication adherence. I conceived OnTimeRx® in 2000 after discovering that many transplant patients lose their newly transplanted organs simply because they don't adhere to their antirejection medications. Sadly, adherence remains a complex and vexing challenge, and this is why we continue to promote and update OnTimeRx® with additional functionality as communication technology evolves."
Mr. Kaspersetz, founder and President of Arteric adds, "The beauty of developing software in the healthcare space is the potential for helping people live longer, healthier lives. It's inspiring to see OnTimeRx® being evaluated for its capacity do just that."
For information about OnTimeRx® products, contact Jon Fisher at 201.558.9910.
For information about the clinical trial, contact Vanessa Monroe at 832.971.8682.
Learn more at Arteric.com
About Arteric
Arteric is a digital marketing agency built on a foundation of technology expertise -software engineering, search engine optimization and search engine marketing. Arteric develops the strategy and the software - Web sites, mobile apps, and Web applications - that drive pharmaceutical and biotechnology digital marketing campaigns and connect the public and healthcare professionals with information about life-changing therapies, technologies and devices.
Contact
Ross O'Shea
Arteric Public Relations
201.558.9910
Ross@arteric.com
iPhone and iPad are trademarks of Apple Inc., registered in the U.S. and other countries.
Android is a trademark of Google Inc.
Windows is a trademark of Microsoft Corporation.
References
[1] Monroe V, Dello Stritto R, Langford R, Young A. (2017). Texas Woman's University-Houston.Testing a Smartphone Application Intervention to Improve Medication Adherence in African American Female Clinic Patients with Unstable High Blood Pressure: A Two Group Randomized Control Trial. Presented at the Southern Nurse Research Society Symposium. Dallas, Texas.
[2] Taylor J, Peternell, B, Smith, Jennifer J. (2013). Attitudes toward genetic testing for hypertension among African American women and girls. Nursing Research and Practice. doi:10.1155/2013/341374
[3] Still C, Craven T, Freedman B, et al. (2015). Baseline characteristics of African Americans in the systolic blood pressure intervention trial. Journal of the American Society of Hypertension, 9(9), 670-679. doi:10.1016/j.jash.2015.06.012