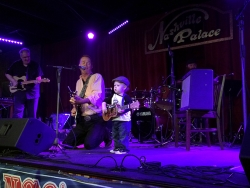 Nashville, TN, June 01, 2017 --(
PR.com
)-- Country music veteran, Doug Stone got down on his knees, but brought the Nashville Palace crowd to their feet, when he brought little Ryman Shafer Frizzell on stage to perform his hit, "Why Didn't I Think Of That," during a May concert in Nashville, TN.
To view a clip of Doug Stone and Ryman Shafer Frizzell, follow this link:
https://www.youtube.com/watch?v=UUbeCnEGt-4&feature=youtu.be
Doug Stone is an American country music singer. He debuted in 1990 with the single, "I'd be Better Off (In a Pine Box)," the first release from his 1990 self-titled debut album for Epic Records. Both this album and its successor, 1991's "I Thought It Was You," earned a platinum certification from the Recording Industry Association of America.
Stone has charted twenty-two singles on Hot Country Songs, with his greatest chart success coming between 1990 and 1995. In this time span, he charted four number 1 singles: "In a Different Light," "A Jukebox with a Country Song," "Too Busy Being in Love," and "Why Didn't I Think of That," plus eleven more top ten singles.
"Baby Ryman," as those who follow him on social media affectionately call him, is the great nephew of the late Lefty Frizzell and the Godson of the legendary singer/songwriter Whitey Shafer. He's become a regular on the Nashville Music scene, making appearances on stage with country stars at various world famous music venues, including the Ryman Auditorium with Loretta Lynn in April of 2017. Coincidentally, Stone made his on stage debut with Loretta Lynn when he was 5.
Baby Ryman may be recognized as much for his on stage appearances and miniature custom guitar he carries everywhere, as the children's apparel line he sports called "Apparel by Frizzell" which includes "Baby Bodysuits by Frizzell." Ryman's parents, Corey and Toni Frizzell became inspired to create the line after making homemade versions, bearing Corey's country music portrait prints, for Ryman.
Baby Ryman would gain quite a bit of attention wearing the bodysuits while attending events and music shows leading admirers to ask where they got them. This would give the Frizzell's the idea to launch the bodysuits (country music onesies) under the Apparel by Frizzell line.
The line now boasts several fine art portrait designs, hand drawn by Corey, of various country music legends, including Lefty Frizzell, Loretta Lynn, Keith Whitley and Merle Haggard to name a few. Designs are professionally heat pressed by hand on stretchable Rabbit Skins brand bodysuits and toddler T's, available in several sizes.
To check out the Apparel by Frizzell bodysuits and toddler T's follow this link:
http://www.CoreyFrizzell.com