"Missionary Dog" by Sarah Perry Available in Hardcover and Kindle
A fun, exciting way to teach children about God's mission to spread the Good News throughout the world.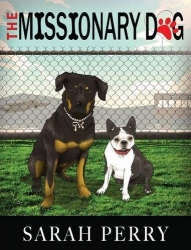 Tulsa, OK, June 21, 2017 --(
PR.com
)-- Join Miss Dixie, a sweet Boston Terrier and a Missionary Dog for the Lord's Army as she helps to share God's message and meet new friends along the way. She is so excited about her new assignment to Mongolia, the home of her best friend, Dolly. Missionary 1st Lieutenant Dolly is a precious Rottweiler dog. Join our brave travelers, Miss Dixie and Dolly as they share God's message and meet new friends along the way. Craft activities at the end of the book will inspire and engage young readers.
"The Missionary Dog is all about children and is a very exciting way to learn about God's mission toward spreading the Good News around the world. No doubt every child loves dogs and based on this reason you will be able to hear how the main dogs interact with each other in an interesting way to accomplish spreading the Good News of Jesus Christ! Your little ones will receive inspiration to share the Good News all around the world and we highly recommend this book for your family." - Rev. David and Tseegii Baatar Ministers from Mongolia
As a pack of furry friends follow Dixie on her exciting journey into new parts of the world. They meet challenges on the way teaching everyone how to use their faith to overcome obstacles. All while introducing young ones to a fun adventure of life as a missionary,
Bush Publishing and Associates announces the immediate release of "The Missionary Dog" by Sarah Perry, available in hardcopy and as a Kindle download on Amazon.com. Bulk distribution available for book stores, vacation Bible school, and schools through Bush Publishing and Associates. For more information about "The Missionary Dog" or quantity pricing contact us at: info@bushpublishing.com.
Contact
Bush Publishing and Associates
Lynn McGinnis
918-404-8205
www.bushpublishing.com

Contact