Meta Wear, an Amazing New Way to Measure Workout Performance with Your Body Heat; Color Change Apparel is Here to Change the Gym Scene
Meta Wear Activate is heat sensitive thermochromic workout apparel will show color change via a good workout by Thermal Heat Signature.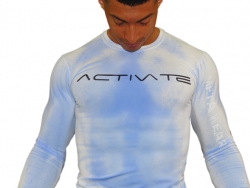 Moreno Valley, CA, June 28, 2017 --(
PR.com
)-- Nowadays, people are bombarded with fitness apps capable of tracking activities, diet, weight, and sleep patterns to help people stay motivated towards fitness goals. The drawback to most of these fitness apps is that need to have a smartphone on 24/7 to get the most accurate response. Well, all that changed with the innovative color changing active wear.
The new active wear shirt keeps a comfortable temperature but has the ability to change colors depending on body temperature. Let's look at what makes this product so unique yet useful.
Why Does It Change Color?
Unlike other workout clothes, all other shirts are just shirts, meaning there is no measurable output just sweat. The material used to make the shirts is MRI stylized technology approved and has been combined with the body's blood flow and metabolism with advanced thermal imaging to create the color changes.
Essentially, the harder a work out and depending on the muscles that are worked, the shirt will change colors accordingly, giving a clear map of muscles have worked on and those that need to be worked on.
Why Use It?
Being able to visualize the impact of a workout in real time via a persons thermal heat signature makes this apparel jump leaps and bounds over any other. Unlike other gym clothes, this will give the wearer a clear and colorful picture of muscles that have worked on the ones still needed to work on. It allows the wearer to push harder and exceed their own expectations.
There are many different bodies types that work at different rates but with these workout clothes, people will get to know more about themselves and how their metabolic response changes with the amount of heat that is produced.
What makes this active wear even better is the fact that it's eco-friendly because of the non-toxic dyes. At the end of the day, leaving a trace to zero human foot print on the planet is a great effort this companies implies and puts fort, with the satisfaction and progress of a old tech re-purposed for a modern use the way of new color changing active wear offers that at a very reasonable price.
Get ready to heat things up in the gym - no pain no gain.
Contact
Meta Wear LLC
Stephaon Burney
metawearapparel.com

Contact