CIM-Tech Debuts Router-CIM 2018 at AWFS Las Vegas
CAM Software Company, CIM-Tech, Releases Router-CIM 2018 Enabling Design Software Portability, Compatibility and Multi-level Pocketing for CNC Machines.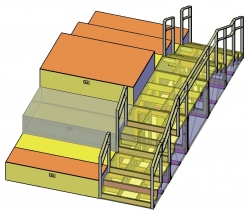 Las Vegas, NV, July 06, 2017 --(
PR.com
)-- CIM-Tech.com Inc. announces the company will launch and demonstrate Router-CIM 2018, the latest version of the revolutionary software suite for CNC machines, at the Association of Woodworking and Furniture Suppliers (AWFS) Fair- Booth 9438, July 19-22 in Las Vegas. Router-CIM allows design software such as AutoCAD®, SOLIDWORKS®, Solid Edge® and AUTODESK® Inventor®, to quickly and easily transfer information and commands to any CNC machine. Router-CIM 2018 gives the suite more robust functionality with multi-level pocketing, enhanced labeling and a new numeric control variable (NCVAR) interface.
"Looking at your competition and at the size, scale and volume that we produce, no other stand-alone CAM software comes close to being as efficient as Router-CIM!" Garison Miseje, CNC Programming Manager for Czarnowski, an Atlanta-based, full-service exhibit and event marketing company says.
"Router-CIM 2018 is ideal for companies wanting to create new designs quickly, with the ability to customize pieces during production runs," Sheldon Prom, CIM-Tech.com Inc. Applications Engineer says.
With the familiar Windows-style interface, new features and enhancements to Router-CIM 2018 include:
1) Multi-Level Pocketing – The upgraded multi-level pocketing will now allow for quicker material removal in a multiple depth pocket feature. Quicker removal, quicker cycle times.
2) Enhanced Labeling - The New Router-CIM label designer allows users to create professional labels without design or advanced computer skills. The easy-to-use interface helps the user to print text, graphics, and barcodes on labels designed from scratch in minutes.
3) DOIT Editor Speed Improvements – Defining Knowledge to Layer associations has never been easier, or faster! With a color coded guide, instant association updates, Smart wildcard capability and the new layer finding feature of the DOIT Editor let you configure Router-CIM Automation Suite the way you want to.
4) Upgrades to Reporting – The Router-CIM Automation Suite reporting allows for cycle time adjustments that can now be dialed in on a per-machine basis. Get accurate results on cycle times, tool usage and acceleration/deceleration that will give you the information you need to control your CNC production cells.
5) New NCVAR Interface – The simplified NC Variable interface lets you customize the features of Router-CIM Automation Suite that are most important to you. Simple Add, Edit and Delete tools let you take advantage of all the power in the Router-CIM Automation Suite advanced programming features.
For 30 years CIM-Tech has been offering CAD/CAM software for CNC machines. Router-CIM 2018 users will still enjoy all features of the 2017 version including the most used and acclaimed such as:
- Tool paths created and saved inside AutoCAD with all AutoCAD commands on the tool paths. No need to DXF out or save drawings to an older version of AutoCAD;
- All tool paths stored on separate layers, so the DWG contains both design and manufacturing data;
- Only one system to learn and use; combined design and manufacturing makes for a reduced learning curve;
- Parametric macros included, and you do not need to be a VB programmer to write them. Over 40 MDF door macros and 20 millwork macros are included;
- Router-CIM post processors available for virtually all machine controllers--supporting the most complex machinery;
- Powerful advanced nesting features that are only available in Router-CIM;
- Custom written software can reduce the number of steps between design and manufacturing;
- Multiple data sources and types: DWG, DXF, macros, 3D solids, surfaces, ellipses, splines, text and more.
About CIM-Tech.com Inc. Established in 1986, the founders of CIM-TECH realized that a CNC machine was only as good as your ability to program it. Computer Integrated Manufacturing (CIM) was needed to bridge the gap between Computer Aided Design (CAD) and Computer Aided Manufacturing (CAM). CIM provides for a seamless solution with a common interface for design and manufacturing. From this basic concept a new company was created, CIM-TECH. 7512 Dr. Phillips Blvd., Suite 50-859, Orlando, FL 32819; 407-219-9346 -
info@cim-tech.com
;
www.cim-tech.com
Contact
Mary Lynn Heath, PR
Mary Lynn Heath
405.641.9733
www.cim-tech.com
info@cim-tech.com

Contact