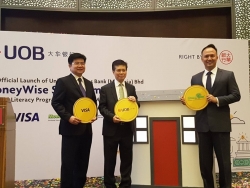 Singapore, Singapore, July 09, 2017 --(
PR.com
)-- MoneyTree Asia Pacific Pte Ltd has announced the launching of its Financial Aptitude & Success Traits (FAST) Index. FAST, which is arguably the first Financial Profiling tool targeting kids measures 3 important areas of a child's Financial Intelligence makeup: Financial Knowledge, Money Habitudes & Peer Pressure Defence (one's ability to resist peer pressure).
FAST measures all these through a series of fun and quick assessments alongside activities that are designed to capture a child's first and natural response.
MoneyTree, which is based out of Singapore, will provide the first access to FAST through its network of academic partners, territory licensees in Malaysia, Cambodia, Philippines, Australia, Vietnam and Kenya and financial institutions.
Currently, MoneyTree's financial programmes which has gained international recognition, has been conducted in schools in Singapore, Malaysia, Cambodia and Vietnam.
Recently, MoneyTree partnered United Overseas Bank (Malaysia) Bhd (UOB Malaysia) to launch UOB Malaysia's financial literacy programme aimed at instilling financial awareness and better savings and investment habits among Malaysian consumers. The programme which was designed for an age group between 9 and 50 to use FAST to help students and parents identify their level of financial competency and understanding. The programme will also adopt MoneyTree's "learn through play" workshops.
MoneyTree, which also runs the award winning cartoon series "Cashville Kidz" (in partnership with Maybank & Maybank Foundation across South East Asia), aims to make FAST a standard for measuring the effectiveness of all financial literacy programmes.
"We aim to launch more online tools and products that would form the next level in Financial Education – combining online channels, gamification and psychological profiling to create the most comprehensive Financial Literacy programme available," Michael Reyes, CEO of MoneyTree Asia Pacific Pte Ltd adds during a recent interview.
FAST is expected to launch in the different markets carrying the local language (where relevant) from the 3rd week of July till the end of August 2017.
About MoneyTree Asia Pacific Pte Ltd
MoneyTree Asia Pacific (MoneyTree) has been promoting, delivering and implementing proprietary Financial Literacy & Entrepreneurship programs to schools, enrichment centers and institutions of higher learning via a face-to- face approach since 2009.
Currently the leading Financial Education Provider in Asia, MoneyTree has been developing a series of online products and tools.
MoneyTree provides content, programs, games & teaching tools to help kids and youth aged 6-22 acquire Financial Literacy and Entrepreneurship knowledge to better plan their future.
About FAST:
FAST is a proprietary Assessment & Profiling Tool, which has been named The FAST Index (short for Financial Aptitude & Success Traits Index), designed to provide parents and teachers with an effective means of measuring the progress of a child's financial intelligence.
FAST is currently the only assessment that measures the three key components that make up the Total Financial Intelligence composition a child would need.
About MaybankCashvilleKidz (CVK) for Cambodia
The Maybank CashvilleKidz Financial Literacy Program is a flagship program under Maybank Foundation. In Cambodia, the Maybank CashvilleKidz Financial Literacy Program is a joint initiative of Maybank Foundation, Maybank Cambodia and MoneyTree Asia Pacific to promote and raise the financial literacy level of students in Cambodian schools.