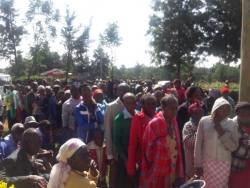 Aspen, CO, July 12, 2017 --(
PR.com
)-- Africa Water Wells is a grass roots organization centered in Aspen, Colorado & Arlington, Texas whose mission in Sotik, Kenya, has been providing clean water, free AA & medical care, women's empowerment programs, and donated used laptops to primary schools in & around Sotik. Africa Water Wells is now fundraising for additional clean water wells near Sotik, including wells for two schools for the deaf whose students have no access to clean water.
Traveling to Africa on safari for their 50th wedding anniversary, Bud & Sandy Mulcahy's life-story epitomized the American Dream of hard work and overcoming poverty. Bud grew up on a Texas farm without running water nor electricity and met a man working in the Maasai Mara from a village in the Kenyan Rift Valley without access to clean water. On the plane from Nairobi to London's Heathrow, Bud told Sandy that they would return to Kenya and drill a water well.
Did You Know:
95% of rural Kenyans lack access to clean water
Africa Water Wells is committed to providing clean water to Kenyans
A child dies every 90 seconds from a water-related illness
Volunteers who pay their own travel expenses & lodging are the backbone of the work Africa Water Wells does in Kenya.
Sandy and Bud arrived in Kenya in 2012 with a team from Aspen, Colorado & Arlington, Texas, to drill the first well in Kapkesembe, build huts for destitute widows and children, and teach in a university. In 2013 and 2014, a primary school was built and named after Bud, soccer tournaments were organized to promote Alcohol Awareness (AA) meetings and the first of four annual women's empowerment conferences commenced to teach sustainable skills for local villages. In addition, solar panels and a water tower were added to the first well.
Also in 2014, Africa Water Wells funded the building of a church in the slums of El Doret to administer to the needy and funded education in northern Kenya in Meru County where Aspen Community Church is primarily involved. In 2015, another team led by Sandy & Lee Mulcahy laid a water pipeline in Kapkesembe to the medical dispensary. The last three years have seen the expansion of the AA program led by Greg & Renee Smith where the lack of jobs and dire circumstances for Kenyan men contribute to the significant alcohol problem in both rural and urban communities for jobless males. An AA and medical clinic was built in 2017, a second clean water well was drilled in Kapkesembe, and a medical team of seven, including Dallas-based Dr. Yong Chang, Methodist Dallas Medical nurse Sun Han, pharmacist Samantha Suh-Lee, and medical volunteers Ryan Paik & Sam Cho offered free medical services to hundreds during a nationwide nursing strike.
To honor the life and founder of Africa Water Wells, Lee & Sandy Mulcahy are collecting used laptops in the Roaring Fork Valley and in Texas to donate to primary schools in the Rift Valley in Kenya. Laptops were delivered to schools in October 2016 and June 2017.
Used laptops can be dropped off in Aspen at either Aspen's St. Mary's church office or in Arlington, Texas at Grace Covenant Church on I-20 or by e-mailing or calling Lee and Sandy Mulcahy at 817 925 9272 or 970 429 8797 for pick-up.
Africa Water Wells is currently applying to become a sister city of Aspen, Colorado. Jack Jackson is leading the appeal for funds for additional medicine, more clean water wells, including two Schools for the deaf outside Sotik and additional support for the Sotik medical and AA clinic.
People who are led to donate but don't have laptops can contribute funds for clean water, medical needs or educational efforts through
www.africawaterwells.org