Fresh Drinking Water from the Atmosphere 40-Liter Residential Appliance
Enjoy pollutant & mineral-free fresh drinking water produced from the atmosphere that meets or exceeds World Health Organization (WHO) standards without disturbing existing water supplies.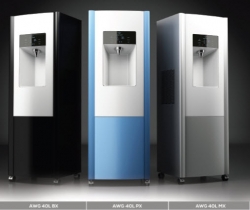 Mundelein, IL, July 20, 2017 --(
PR.com
)-- PanLbilt Global announces the new product release of a 40 Liter per day Residential 4th Generation appliance to complement our existing line of commercial fresh Water from Air products ranging from 100 Liter per day to 10,000 Liter per day.
Features and Benefits
· Produces Fresh Drinking water from the atmosphere that meets or exceeds World Health Organization (WHO) standards
· Plugs into in-house On-Grid electrical outlets
· Can be powered via Off-Grid solar energy
· Easy user-friendly installation of replacement filters
· Uses Green technology that eliminates plastic bottles
· Mitigates transportation costs; fresh drinking water is produced on-site solely from the atmosphere
· Eliminates dependence upon municipal infrastructure and health risks from degraded pipes subject to lead or bacteria
· Greatly reduces cost of liters/gallons
· Enables Rapid Return on Investment (ROI) of Capital Costs
Available in 3 configurations:
AWG 40L BX, basic model
AWG 40L MX, features hot & cold-water options
AWG 40L PX, enhanced model features hot, cold & soda water with Wi-Fi & mobile app controls
Technical Specifications
Power: 110V/60 cycles US, 220V/50 cycles European
Power Consumption: 700 W per hour/ 16.8 kW per day
Rated Current: 3.5 Amps
Working Temperature: 5° C/41° F to 35° C/95° F
Dehumidify Capacity (30°C/86°F at 80% RH): 20 Liters/5.28 Gallons per day
Full Water Quantity: 5.5 L/1.45 Gal
Air Circulation: 450 m3/hr.
Control Type: Electronic
Status Indicator: Buker full signal light
Recommended room size: 50 m2/538 SF
Noise: <60dB
Refrigerant Charge: R410A
Dimensions: 16.9"/42.9cm L x 15.75"/40cm W x 42.9"/108.9cm H
Weight: 45 kg/105 lbs
# Units per 40-foot Container: 240
Contact PanLbilt Global's Marketing Department at 224-425-9236 for technical and pricing information.
Contact
PanLbilt
Allan M. Olbur
224-425-9236
www.PanLbilt.com

Contact