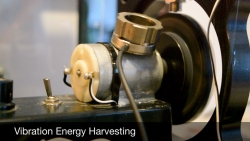 Oak Ridge, TN, July 25, 2017 --(
PR.com
)-- Terry Pennisi, CEO and founder of Jennova Inc., a specialist in smart energy management solutions, recently highlighted the latest wave of "Electrodynamic Energy Harvesting: Methods, Opportunities, and A Way Forward" with hundreds of attendees participating in the IDTechEx Sensors Conference in Berlin, Germany. He was joined by Christian Pennisi, the company's director of operations, who also addressed the development of reliable and long-running power sources needed to operate Internet of Things (IoT) products worldwide.
"We are on the precipice of the next great industrial revolution," said Christian Pennisi. "IoT is set to disrupt nearly every industry through the introduction of billions of sensor arrays that collect and transfer information to gateways in real time. However, while the energy needed to power these devices has dramatically reduced over the years, power is still a necessity for each end point. For instance, the cost of hardwiring an IoT system could account for 30 to 40 percent of the project's overall cost, while the continued dependence on batteries and their ongoing replacement could also prove overwhelmingly cost prohibitive."
"Jennova has been dedicated to the development of electrodynamic energy harvesting (EH) methods for the past seven years," explained Terry Pennisi. "The key is motion, which is available in any number of IoT environments. Where other energy harvesting methods are limited due to their size or positioning in the application, rotational EH devices can be cost-effectively installed to gather energy that would otherwise be lost in physical motion. This includes the operation of products ranging from body and automotive sensors to the billions of monitors used to extrapolate data from the Industrial Internet of Things."
During their presentation, the Pennisis cited the numerous applications where EH could be used to generate anywhere from high to medium energy outputs to power wide ranging sensor arrays. This includes its use with pumps, fans, compressors, water turbines and virtually any other form of equipment that produces vibration or motion.
"Real-time data creates an opportunity for increased efficiencies, the ability to track trends, identify issues and reduce downtime," offers Christian Pennisi. "We are committed to making EH technologies cost-effective for smaller facilities and industries that would not have previously considered EH because of the high overhead and limited ROI. The automotive, medical, and consumer IoT are among the many sectors that would greatly benefit from low-cost energy sources that would reliably operate for years or even decades without maintenance, updates or replacement."
"The options are limitless," added Terry Pennisi. "However, EH solutions will play differently depending on the market. As a result, we believe custom R&D approaches, rather than off-the-shelf methodologies, will provide the breakthroughs needed to revolutionize power generation in the IoT on a mass scale."
For more information on Jennova, its new EH technologies and the company's demonstrations and presentations at sensors expo & conference, please visit www.jennova.com or call 615-442-6551.
About Jennova Inc.
Founded in 2008, Jennova is dedicated to creating breakthrough products that benefit both mankind and the environment. The company's primary focus is on the creation of innovations that advance the efficient use of energy and broaden the range of viable harvesting sources.