Juan R. Thomas Sworn in as 75th President of National Bar Association
Reigniting a commitment to civil rights and social justice in these precarious times at the center of new leader's platform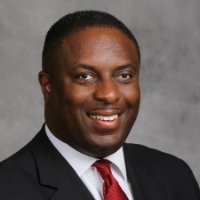 Toronto, Canada, August 12, 2017 --(
PR.com
)-- The National Bar Association (NBA), the nation's oldest and largest national network of predominantly African-American attorneys and judges, has inducted Juan R. Thomas, Esq. as the organization's 75th President. Thomas, Of Counsel to the Chicago law firm of Quintairos, Prieto, Wood & Boyer, P.A., and founder and principal of The Thomas Law Group was sworn in at the organization's 92nd Annual Convention in Toronto.
Thomas, who has served the organization as national Vice-President and Secretary respectively, succeeds Kevin Judd as President. He will preside over the group's Board of Governor's meeting to close out the annual convention on Friday. Thomas has also been instrumental in the re-launch of the National Bar Association Political Action Committee (NBAPAC). He spoke, during the convention on Monday, offering thoughtful and empowering remarks on the need for members to have a greater awareness of how the changing political landscape requires them to demonstrate a more intentional commitment to the mission of the NBA.
Thomas' tenure comes at a pivotal time for a country that is dealing with issues as varied as voter suppression, police misconduct, loss of civil rights, and an overall erosion of rules of law. The challenges of amending police policy and practice guidelines, to reduce and facilitate successful prosecutions in cases of excessive force, have been impeded by a Justice Department that continues to rescind legal enforcement of consent decrees focused on those issues.
"I am humbled by the opportunity to serve this organization, that for 92 years has advanced civil rights in the context of the rule of law," said Thomas. "Our nation is at a critical moment, bordering on crisis, where we are facing social, economic, and political challenges for which we need to step up and present solutions. An American poet once said, 'pity the nation and the people who allow their rights to erode, and their freedoms to be washed away.' The NBA is the bulwark against that erosion."
Thomas' practice areas include real estate/estate planning, labor and employment, and family law. In addition, he provides counseling and training to clients in personnel, collective bargaining, and business development matters. The National Black Lawyers: Top 100 includes Thomas on its list of the Top 100 Trial Lawyers, an honor given to only a select group of lawyers for their superior skills and qualifications.
Prior to founding The Thomas Law Group in 2003, Thomas' professional career was deeply rooted in political and governmental affairs. He served as the legislative liaison for Citizen Action Illinois, where he advocated on behalf of consumer rights before the Illinois General Assembly. Thomas also served as Labor Counsel to Illinois Secretary of State, Jesse White, providing legal advice on labor and employment, and collective bargaining issues for the Office's approximately 4,000 employees. Further, he has broad knowledge and experience in labor and employment law affecting the private sector, state and local governments, as well as school districts within the State of Illinois.
Thomas earned a Bachelor of Arts degree in Political Science from Morehouse in 1992, and after graduation served as President of Morehouse's Chicago Area Alumni Association. He received his Juris Doctor (JD) and Master in Educational Policy degrees from the University of Illinois in Champaign-Urbana.
About The National Bar Association
The National Bar Association was founded in 1925 and is North America's oldest and largest national network of predominantly African-American attorneys and judges. It represents the interests of over 65,000 lawyers, judges, law professors and law students. The NBA is organized around 23 substantive law sections, 9 divisions, 12 regions and 84 affiliate chapters throughout the United States and around the world. For more information, visit: http://www.nationalbar.org/. For information on the NBA-PAC e-mail
nbapac@nationalbar.org
.
Contact: Cynthia Swann,
media@nationalbar.org,
240-893-2303
Contact
National Bar Association (NBA)
Cynthia Swann
240-893-2303
www.nationalbar.org

Contact