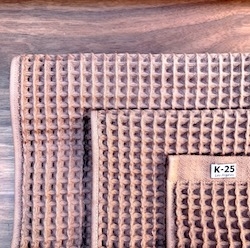 Los Angeles, CA, August 14, 2017 --(
PR.com
)-- If a company presents a way to greatly improve a product that people use everyday (or at least they should use unless they want to be stinky sweaty) one shouldn't be surprised when interest is high. That's exactly the story behind Los Angeles-based SOLO-RM, a groundbreaking design team who have accomplished the almost unthinkable – revisioning, redesigning and remaking the bath towel. The end result is the K-25 Smart Towel, who recently surpassed their fund raising goal on Kickstarter ensuring the remarkable new product line makes it to market, where it's needed in a very big way. No surprise interest is skyrocketing.
"The K-25 Bath Collection can renew a person's relationship with their hair and body's in all of the best ways – no matter their age or sex," commented a spokesperson from K-25. "Fall in love with staying clean and looking great again with K-25. Beyond that, if you need a hug or a scarf, or even a turban we've got you covered. The age of the Smart Towel has begun. Get your pre-orders while you still can!"
According to the groundbreaking K-25 team, their new bath collection features a well thought out waffle style design – which is where the "Smart" element comes from. Not selected simply as reminder of a favorite breakfast cheat meal, the design delivers a long list of real benefits. Some highlights include: the cool waffle texture delivering enhanced surface area for maximum absorption; less surface contact equals less damage to often sensitive skin and hair cuticles; friction reduction meaning saying goodbye to friction, rush and annoying, unsightly skin irritations; and the pockets let the bath collection dry quicker and more thoroughly. A total win, no matter how you look at it.
Not to mention, the K-25 Bath Collection – which contains four towels: a face towel, hand towel, hair towel and bath towel – are all made of the finest 100% natural cotton, grown and processed without harmful chemicals. Only AZO-free safe dyes are used.
So far $21,263 have been pledge of a $15,000 goal – a smashing success – and the campaign ends on August 19, 2017. Depending on the donation size all kinds of cool perks are available.
Feedback has been passionate.
Chris C., from New York, recently said, "I can't wait to get my K-25 Bath Collection. My expensive towels I'm using right now suck. I'm counting the days till my new Smart Waffle Towels arrive. Five stars all the way!"
For more information be sure to visit
http://kck.st/2wsn2Fb
.