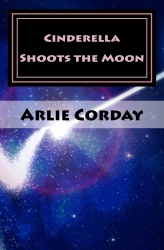 Charlton, MA, August 21, 2017 --(
PR.com
)-- Bullying, peer pressure, parent trouble and classroom rivalries are among the problems students face as another school year begins.
These issues are tackled in a new indie novel, "Cinderella Shoots the Moon," by Arlie Corday of Charlton, Mass., who spent her childhood on a farm in upstate New York. The book is aimed at teens, young adults and anyone dealing with the challenges of growing up in difficult circumstances. It especially gives voice to those from often forgotten rural areas.
This coming-of-age story focuses on teen misfit, Tara Harris, who finds there is more to life than popularity and fashion after her family moves to rural New York. After her parents fall into depression and alcoholism, Tara finds much needed support from a mysterious older woman who tells her own story of growing up in a time with few options.
But when Tara learns her best friend, Abbie Sullivan, is in more trouble than she ever dreamed possible as the victim of abuse, the girls decide to the "shoot the moon," or run away in the night. Dubbing themselves the "Cinderella Girls," Tara and Abbie use their wits and will to survive. Out on their own, they become nannies, con artists, self-educated scholars and gang members. But then tragedy strikes, threatening to end their flight to freedom.
"Cinderella Shoots the Moon" reflects the all-too-common struggles of families like the fictional Harrises and Sullivans. According to the U.S. Department of Agriculture, one in four rural residents grows up poor. The U.S. Department of Health and Human Services estimates that one in five girls and one in twenty boys are a victim of child sexual abuse. In addition, one in five adult Americans have lived with an alcoholic relative while growing up, according to the American Academy of Child and Adolescent Psychiatry.
"The world seems determined at times to destroy its young," Corday said. "I hope teenagers, parents, teachers and others will find a few insights about how to ease these burdens that often seem too much to bear."
"Cinderella Shoots the Moon" is available on Amazon.com as a paperback or e-book. Arlie Corday can be reached at arliecorday@yahoo.com.