SunTegra® Awarded $500,000 in New York State's 76West Clean Energy Competition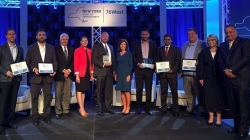 Port Chester, NY, August 30, 2017 --(
PR.com
)-- SunTegra, a leading provider of integrated solar roof systems, has been awarded $500,000 in New York State's 76 West Clean Energy Competition.
The competition is designed to support clean energy entrepreneurs to grow their businesses, innovate new technologies, and drive economic development in New York's Southern Tier. Governor Andrew M. Cuomo announced the winners last Wednesday saying, "...the winners from this competition will bring jobs and economic growth to the Southern Tier and beyond, ensuring that New York remains at the forefront of the new clean energy economy."
"SunTegra is delighted to receive the 76 West award. We plan to use these funds to establish a world-class R&D and operations center in the Southern Tier," said Oliver Koehler, Founder and CEO of SunTegra. "In preparation for the competition, we began meeting with a diverse set of companies throughout the region to explore ways to grow, collaborate, and contribute to the future of this clean energy community."
Mark Paille, the Vice President of Sales and Marketing at SunTegra, accepted the award on behalf of the company on August 16th in Binghamton. "We are honored to be a part of this select group of clean technology companies ready to expand into the Southern Tier. Thank you to NYSERDA for developing this meaningful program and supporting the future success of solar roofs."
76West expert judges evaluated companies based on clean energy impact, customer value, business model viability, technical viability, job creation, and leadership. The initial applicant pool was in the 100s and in mid-July a select group of 15 semi-finalists had the opportunity to pitch their company to the judges. This year marks the second round of 76West awards and there will be two more years of competition and awards in 2018 and 2019.
About SunTegra
Founded by Oliver Koehler in 2013, SunTegra (formerly known as Integrated Solar Technology, LLC.) is a building-integrated solar products company offering homeowners and businesses aesthetically-pleasing, financially-viable alternatives to standard, rack-mounted solar panels. The SunTegra Solar Shingle and Solar Tile Roofs integrate into the way we live and build. By installing flush to the roof decking with no racking system needed and in place of traditional roofing materials, SunTegra systems are low-profile and provide protection for the home. By leveraging the most proven solar energy technologies, SunTegra Solar Roofs are as efficient as standard solar panels and provide homeowners with the long-term energy bill savings that make solar a sound investment. SunTegra offers its Shingles and Tiles to homeowners and businesses through its Authorized Dealer Network consisting of roofers, builders, and solar contractors. The SunTegra Solar Shingles and Tiles are UL certified. For more information, see www.suntegrasolar.com.
Contact
SunTegra Solar
Noah Siegel
(914) 249-9364
www.suntegrasolar.com

Contact