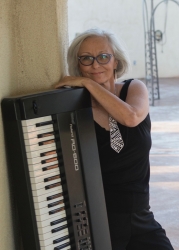 Las Vegas, NV, September 15, 2017 --(
PR.com
)-- Cynthia Harris of Las Vegas, Nevada has been honored as a Prominent Business Leader for 2017 by Strathmore's Who's Who Worldwide Edition for her outstanding achievements and high level of success for over 40 years in the fields of live music performance and music education.
About Cynthia Harris
Solopreneuer, Small Business Owner, and Professional Pianist Cynthia Harris knew before she was a double digit that she wanted to spend her career on the bench (the piano bench, that is). Let us suffice to say that although she found her calling right away, spending a lifetime following through with a pact made at the age of eight has been nothing short of a riveting journey filled with buckets of ins and outs, arounds and throughs, and ups, downs, and back ups.
The first reality check came early on: Cynthia's classical piano teacher emphatically said, "No, I will not help you learn to play popular music!" Shattered only momentarily, she realized the inevitable: she would need to buck the system, take matters into her own hands (literally and figuratively), and find her own way. Talk about lemons into lemonade! So the seeds of an entrepreneurial spirit had been planted, and thus began a lifelong venture of maneuvering outside the box, pioneering new paths, and fusing a very traditional classical background with the contemporary outlook and whims of the day.
With the piano as best friend and trusty companion through thick and thin, Cynthia gallivanted about and experienced life all around the musical spectrum - playing classical music with strings and other orchestral instruments, accompanying singers and being a rehearsal pianist with opera productions, playing religious services on both piano and big church organ, and oh, the ballet. The ballet, with its lush, athletic beauty, took Cynthia to New York City and several summers in Aspen/Snowmass. What fun... And then came the ultimate merging of all the disciplines - America's truly original art form, the Musical Theatre. From rehearsal pianist to Music and Vocal Director as well as Keyboard/Conductor, hours and hours and hours were spent in the love of the theatre.
With the onset of the early 80's, Cynthia's musical journeys landed in Las Vegas, where she has spent the past 35 years figuring out just exactly how she could stay true to her childhood entrepreneurial disposition. Needless to say, Vegas has been the spot. As the art of music education (in particular, piano pedagogy as well as teaching music history) has always been an indispensable part of her constitution, Cynthia has developed a reputation for being an out-of-the-box teacher. Spending 17 years in the classroom at the local community college as well as 3 years creating an education department which featured her specific teaching method of merging the old with the new, Cynthia's current private students are mostly children and close friends of her professional musician colleagues. "When professional musicians entrust the musical education of their children to me… well, no one gives out awards for that, so kindly let me put that plume in my cap!" states Cynthia.
In the late 90's, musicians and opera singers were all abuzz about a new work opportunity in a themed casino hotel which was to be of magnificent artistic significance. Who could imagine that art, opera, and classical music would find a place on the Las Vegas Strip? But it did, and continues to do so today, as The Venetian is an extraordinary work of art in itself. Cynthia absolutely loved playing in Venetzia, stating, "I was the Keyboard/Conductor of The Red Trio. We were clad in elaborately constructed, gorgeous red velvet Renaissance inspired costumes. My team worked two days a week and I still smile when I recall the days we termed 'Sunday-Monday-Funday!'"
Nothing has had as much positive impact to the artistic world in Vegas as the arrival of the circus - the Cirque du Soleil circus, that is. Soon Cynthia was called upon as a ballet pianist for the first resident Cirque show, Mystere. A few years later, the call came for Zumanity and then Celine Dion's "A New Day." Eventually the opportunity came to audition for the Keyboard II chair in the KA band. KA is the resident show at the MGM that features the tilting, twisting stage that, at one point, stands straight up, reaching five stores high. Cynthia states, "I joined the KA band in 2005 and continue to this day as an on call sub (meaning that I am not the full time keyboardist, rather, I play once every 2-3 weeks to keep current with the show, as well as be ready in case of emergency. And yes, it is very difficult, but oh so fun! I'll take another plume in the cap for this one!"
Around the turn of the millennium, Cynthia's entrepreneurial spirit once again began to twitch and in a flash of urgency, Classical Entertainment Inc was launched and a new era began. This time it was a deep dive into totally new waters becoming a small business owner, and yet it was still all about the music. Cynthia notes, "The lesson comes in making sure you continue to get back up each time you are knocked down. Let's stick a few more plumes in for this one!"
Of all the opportunities to present lush live music that have come through Classical Entertainment, the most wondrous was their 3.5 year tenure with the Bellagio Conservatory & Botanical Gardens. The Bellagio Conservatory is truly a luscious zen garden right in the middle of the neon flash of Las Vegas, and Cynthia had the great honor and pleasure of being music curator for the daily concert series taking place on the stage in the midst of the exquisite beauty. Cynthia states, "It felt as if the musicians were playing in a living work of art; it sublimely enhanced the guest experience! Plumes indeed!"
Today, as Solopreneuer, Small Business Owner, and yes, still a Professional Pianist, Cynthia is a very happy grandmother with platinum blond hair (some might tend to interpret it as gray), very active laugh lines, and a cap full of plumes! Acknowledging she is nowhere near the finish line, she feels Shakespeare was certainly inspired when he wrote "All the world's a stage…" But that was a long time ago, and now it's today. What Cynthia believes he really meant - coupled with millennial technology and perspective - is: "The Universe is a stage, so get thee out there on it and shine thy light brilliantly with love and gratitude for the multiplicity of gifts bestowed upon you! But if you don't want to be ON the stage, then, if you can, get thee down into the orchestra pit, and take your place on the bench. I'll see you down there…"
For further information, please contact www.classicalentertainment.com.
About Strathmore's Who's Who Worldwide
Strathmore's Who's Who Worldwide is an international advertising, networking and publishing company based in Farmingdale, New York. They are proud to be able to satisfy their clients and continue to have repeat clientele due to their longevity and pride in their products and services. The Owners strive to connect business professionals to enhance their contact base and networking capabilities so they can get the acknowledgment and publicity within their industries and beyond. The Strathmore family has been providing these valuable services for over two decades. They target executives and professionals in all industries to be featured in their publication and on-line directory. Industries include business, law, education, healthcare and medicine, fine arts, IT, government, science, real estate, entertainment and many more accomplished fields. Professional profiles are listed in an annual hardcover journal and in a detailed, searchable database on the website www.strww.com.