Mrs. Akie Abe Joins Food Activists to Discuss Food and Diplomacy in New York
Round table Discussion on Food & Diplomacy with Mrs. Akie Abe as Guest of Honor, followed by Meet & Greet Session and Special Reception.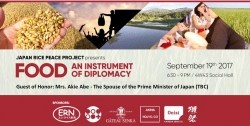 New York, NY, September 07, 2017 --(
PR.com
)-- Building upon the successes of its 2016 debut year, the Japan Rice Peace Project (JRPP) event will be returning to New York City this year during UN General Assembly Week. Mrs. Akie Abe, the Spouse of the Prime Minister of Japan, will be this year's guest of honor (TBC). Stateswoman, human rights activist and farmer, Mrs. Abe is the leading spokesperson for the Japan Rice Peace Project and has been an avid supporter of its endeavors since the program's incipience. The theme of this year's JRPP conference will be "Food: An Instrument of Diplomacy," and will feature a panel of experts drawn from the social and natural sciences, economics, the non-profit sector and the business world presenting and debating their perspectives in a roundtable discussion. These experts will debate a broad range of issues such as the role of food in diplomacy, food crises, food safety policies, food insecurity, the future of agriculture and rice farming, the impact of climate change on agriculture, and global food policies and standards. The event links international companies, universities and Japanese government-supported campaigns to promote sustainable foods and healthful disaster relief foods.
The Japan Rice Peace Project Conference and Reception will take place on Tuesday, September 19, 2017, 6:30pm–9:00pm at 4W43 Building – Social Hall, 4 West 43rd Street, New York, New York 10036.
JRPP was inspired by the food crisis response initiatives of the NPO Project 88 non-profit program. NPO Project 88 hails its name from the 88 processes required for making rice and to highlight farmers' hard labor in producing the crop. Founded in response to the crises generated by the Tohoku 3/11 earthquake and nuclear meltdown in 2012, NPO Project 88 partners with other non-profit organizations and corporations in a far-reaching educational and agricultural campaign to produce allergen-free rice products as emergency relief food. The focus of developing tasty, nutritious, non-GMO, low pesticide, and allergen-free, organic and gluten-free rice products is also central to NPO Project 88's mission of helping to spread peace and disaster-relief throughout the world.
Dr. Scott H. Sicherer, Medical Director, Clinical Research Center Icahn School of Medicine at Mount Sinai, John Mason, Professor of Political Science, William Paterson University and Ms. Bronwyn Starr, Senior Program Officer of New York State Health Foundation are among the event's invited panelists. Ms. Kylie Wright-Ford, co-author of Leadership Mind Switch, will be moderating the discussion.
The roundtable will be followed by a question and answer session with the audience. The event will conclude with a meet and greet session and a special reception where confirmed guests will be able to sample high-end Japanese food prepared by Chef Oliver Lange of Zuma Restaurant and premium sake by Dassai.
The Japan Rice Peace Project Conference and Reception will be hosted by the Santos Marketing Group (SMG). Limited seats will be made available to members of the press and interested parties who RSVP.
Please e-mail Elena Mancini to reserve a seat.
Event-related private interviews with Mrs. Abe must be requested in advance.
This event is free of charge and sponsored by Eco Rice and Dassai Sake.
Contact
Santos Marketing Group
Elena Mancini
917-748-6676
www.santosgroupusa.com
Jeff Santos
Jeff@santosgroupusa.com
201-707-4611

Contact