Hurricane Irma Reports 185 MPH Sustained Wind Speeds, Still 75 MPH Slower Than Canless Air System's X3 Hurricane
The X3 Hurricane from Canless Air System has wind speeds of over 260 MPH and is used as a replacement to computer dusters by over half of all Fortune 500 companies.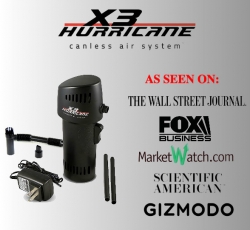 Phoenix, AZ, September 07, 2017 --(
PR.com
)-- Hurricane Irma has set another record, having sustained max wind speeds of 185 miles per hour. While that made it the only Atlantic hurricane to sustain that wind speed on land there is a hurricane blowing much faster and this hurricane is saving Americans money.
The Canless Air System X3 Hurricane is a sustainable, cordless, handheld electric blower that produces sustained blasts of pure air at speeds of over 260 MPH for up to 15 minutes per charge. What sets the Canless Air System Hurricane apart from traditional canned "air" dusters is that it simply uses the air we breathe and can replace over 1000 cans of traditional canned air.
The X3 Hurricane works by drawing air in from the room and then blasts it out at 260 MPH but because it uses wind speed rather than pressure it is safe to use on even sensitive electronics. It is powerful enough to clean computers, electronics, servers and anywhere else dust gathers both at home or at the office.
More and more businesses are focused on reducing their carbon footprint along with their bottom line and as a result Canless Air System's line of handheld, cordless, electronic dusters are now being used by over half of all Fortune 500 companies in place of canned "air." Canless Air has not only caught on with corporate America, it is also popular with small businesses, used for cleaning around the home and is currently sold in over 20 countries.
The Canless Air System Hurricane is proving itself to be the alternative to canned air dusters that companies can no longer ignore. It is made in the USA in Tucson, Arizona. Learn all about the Canless Air System Hurricane at
http://www.canlessair.com
.
Contact
Canless Air System
Adrian Dahlstedt
800-945-6498
www.canlessair.com

Contact