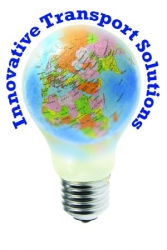 Chicago, IL, September 13, 2017 --(
PR.com
)-- Innovative Transport Solutions (ITS) manufactures the Mobile Transport Tray (MTT), which is used for containerizing industrial products such as aluminum extrusions, steel tubing, structural steel, pipe, bar, plate, lumber, siding, prefab castings and in-gauge machinery & equipment used in the agricultural, mining and construction industries. The MTT saves shippers and receivers time & money and improves worker safety. ITS is an asset based company with 30+ trucks specializing in container drayage at all the Chicago rail ramps and operates a 50,000 square foot U.S. Customs Bonded Container Freight Station (CFS) warehouse facility in Elmhurst, IL 60126 offering trans-loading and consolidation services to shippers and the freight forwarding community.
Common Sense Approach to Saving Money and Time
Paul Gibbs, President explains, "We simply applied some common sense to a few particularly inefficient loading and unloading situations, and then made the investment to engineer solutions. Because they address and solve so many domestic and international loading problems, ITS can bring a shipper and receiver instant savings through more efficient freight loading and unloading.
"Our years of freight loading and unloading experience in the Americas and overseas played a key role in our ability to design products that result in lower costs and the more efficient loading and unloading of freight." Gibbs said, "Our existing business provides us plenty of opportunity to test our products.
"In fact, these products enable us to create even more efficient shipping solutions for our traditional freight customers.
"By combining the Mobile Transport Tray (MTT) with our tailored, low-cost shipping solutions we now can meet most any freight challenge in any industry," Gibbs said.
Mobile Transport Tray Saves Time and Money
The Mobile Transport Tray (MTT) allows shippers to load and unload containers in less-than-1-minute, thus eliminating detention and having to drop containers to be unloaded. Freight is easily secured to the MTT and simply rolled into a container for transport. Benefits include lower labor costs both at origin and destination; reduced dunnage; faster transloading and the ability to convert flat-bed loads to rail/intermodal containerized service.
Gibbs noted that just one example of improved shipping loading and unloading efficiency using a MTT is the ability to eliminate many situations currently requiring top-loading containers (open tops), which require expensive and time consuming cranes and forklifts. A loaded MTT is simply rolled into a container.
The Mobile Transport Tray is available for lease, purchase and one-way rental for both domestic (rail/intermodal) and international shipping (oceanic).