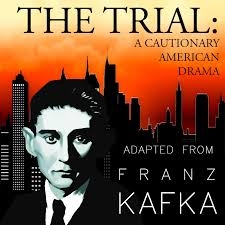 Plymouth, NH, September 20, 2017 --(
PR.com
)-- In The Trial at Plymouth State University Josef Kaye has been arrested, but he does not know why. Everywhere he goes he learns less and less about what his trial is about. The court is confusing, opening up more questions as he delves deeper. He does not know who he can trust.
Before his trial began, he was just an everyday banker. He's the chief financial executive at E-vest bank. He's on top of the world, but once his life comes crashing down, he does not even know who he can trust anymore.
"In the US, we have a lot of rights, and we should never take them for granted," notes Paul Mroczka, writer and director of The Trial.
He believes that The Trial is warning us about a political state that, at any moment, can affect any one of us. Kaye is kept in the dark, and uninformed. He fears for the things he says that may hurt him. Everyone is out to get him.
"It's like the old mantra from World War II connected to Nazism," says Mroczka, "I wasn't concerned until it happened to me. There's a moment towards the end of The Trial where Kaye meets someone in a similar situation, and he then realizes that it is not a new thing and that others have been affected by the court in the past. Perhaps he should have been paying better attention to his world?"
The Trial is a dark play that warns us about the danger of losing our rights and freedoms. It is a commentary about political powers, using charm, sex, money, and influence to plow through the judiciary system. It begs, the question: "Is knowing the right people helping me, or harming me?"
Unlike the original novel by Franz Kafka, which is set in Europe, this stage version of The Trial is set in New York City. The new contemporary setting makes this cautionary drama more relatable to audiences. It utilizes various techniques, combining chamber theatre, realistic acting, puppetry, and contemporary dance. Seven actors portray 20 characters as the play evolves in a stark, dark setting that is defined by shifts or light and subtle but exacting costume changes.
This play contains dark scenes, sexual themes, and adult language. It is suitable for mature audiences of 17 or older.
Plymouth State University and the department of Music, Theatre, and Dance presents The Trial adapted by Paul Mroczka based on the novel by Franz Kafka from September 21-23 and September 29-30 in Studio Theatre at the Silver Center of the Arts. Performances are 7 pm on September 21, 29, and 30, 8 p.m. on September 23, 6 p.m. on September 22, and 1 pm on September 30. Tickets are on sale now. Visit the Silver Center at Plymouth State University, Plymouth, NH or call (603) 535-ARTS for tickets and more information.