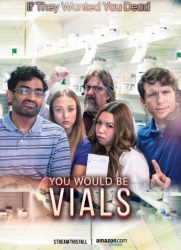 New York, NY, September 25, 2017 --(
PR.com
)-- Today is World Pharmacy Day and the World Premiere Red Band Trailer for the first comedy series about pharmacists, technicians and interns has been dispensed.
In "Vials," viewers will be introduced to the staff of Gateway Drug and Surgical, a local pharmacy run by the ornery pharmacist Rich who must contend with unruly customers, a possible corporate takeover, his rebellious daughter Lisa, the arrogant technician Joe, and Doug, the timid intern.
"Drugs and the pharmaceutical industry are ingrained in pop culture," said Michael Carl Jude, the writer and creator of "Vials." The series will tackle everything from Xanax and the Opioid crisis to healthcare reform and even the infamous Martin Shkreli.
"Vials" will premiere Thanksgiving Day 2017 exclusively on Amazon Prime.
The World Premiere Red Band Trailer can be viewed
here
.