Fall Into the New Music Ventures We Here Now Music Group Has Made
We Here Now Music Group has been up to some great things.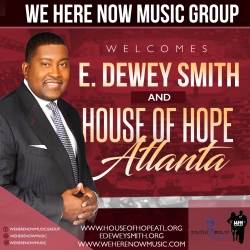 Decatur, GA, September 24, 2017 --(
PR.com
)-- On the heels of an amazing first quarter with not one but three music releases, We Here Now Music Group continues to make moves in the music industry to show they plan on being around for a long time.
We Here Now Music Group has kicked off another component of their label that helps pastors and churches develop a full-service music industry engine, and introduces this element by entering a non-exclusive partnership with Dr. E. Dewey Smith and House of Hope Atlanta. This partnership consists of a one song deal that will be distributed by IndieBlu Music, a division of Entertainment One. We Here Now Music Group's CEO Amandla "Dole" Lassiter said, "Our goal is to help pastors who are musically inclined and churches with dynamic marketable music departments, present commercial ready music that helps both kingdom and industry."
Dr. E. Dewey Smith is no stranger to the music industry. He is an accomplished musician, songwriter and producer with previous releases that include The Hope Mass Choir's "Live At The Cathedral Project," which he was the Executive Producer of and recently released his own single "I'm a Christian Man." Dr. Smith is also a television personality having co-hosted "The Preachers" on Fox and was the recipient of the 2015 "Programmer of the Year" Allen Award for his television program "Living Hope."
We Here Now Music Group, partnering with IndieBlu, is a division of Entertainment One for the digital release of "I Need Your Oil" which features singer extraordinaire Lowell Pye on lead, helps the 9-month-old record label move towards being a viable force for independent artists. The new single is available now via the church's website (link provided) and will be available for pre-order on iTunes October, 1, 2017, with a street date of October 6, 2017. The label will also be releasing a new single on another pastor who is a veteran in the music industry, Bishop Bruce Parham.
The label's motto seems to be ringing true with these new ventures and partnerships… "When we started this journey we didn't know where it would lead but We Here Now!"
Contact:
T'Mil Curtis – We Here Now Music Group, LLC
ladytmil@weherenowmusic.com
800-720-8135
www.houseofhopeatl.org
Contact
We Here Now Music Group, LLC
TMil Curtis
980-215-5301
weherenowmusic.com
ladytmil@icloud.com

Contact