SEER Introduces Digital Primary Market Area (PMA) Analytics for YMCAs
The new interactive PMA is a powerful tool that will help Ys better understand their diverse market areas and the members they serve, provide leadership with invaluable data for capital planning, and present marketing personnel with branch level insight to build plans for the many communities they serve.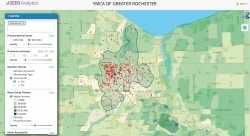 Tampa, FL, October 13, 2017 --(
PR.com
)-- New service is available October 12th.
For the first time,
SEER Analytics
will bring digital market analysis to YMCAs nationally on October 10th. With this new program, Ys will be able to interactively map key metrics for marketing, branch expansion, membership growth, fund-raising, and the development of community partnerships.
SEER President Bill Lazarus said, "This new tool provides Y leaders with unprecedented capabilities to understand their members and communities and to communicate those findings to community partners." The new digital PMA will:
· Plot both 50 percent and 80 percent PMAs
· Draw 5, 10, 15 and 20-minute drivetimes
· Plot members by branch, member type and financial aid
· Control the number of branches seen simultaneously
· Overlay Blockgroup demographics and member penetration, as well as State House, Senate and Congressional district boundaries
· Display data in four map types, including satellite
The new digital PMA is now available for all YMCAs interested in building membership, planning expansions, and increasing their fund-raising effectiveness. To view the new service online visit
www.seeranalytics.com/pmademo
. The new PMA is a key building block of the SEER family of analytical services available to YMCAs across the country.
After using the digital PMA to help secure a multi-year partnership with the University of Rochester Medical Center, Rochester Y CEO George Rommel said, "This will revolutionize the way we use data to place facilities and talk about medical partnership and community connections. This is game changing work."
To learn more about the new digital PMA and Seer Analytics' suite of products, including BaseMetrics, SIBI, New Mover Card and NSA, visit www.seeranalytics.com or contact Chelsea Allison at 813-318-0111 or callison@seeranalytics.com.
SEER Analytics LLC provides survey research, geo-spatial analytics and predictive modeling services to companies in industries ranging from health insurance, to utilities services, to healthcare and wholesale distribution. Since 2001 the company has helped hundreds of YMCA associations site new branches, build membership, drive fundraising results, and improve the impact they make in the lives of their adult and youth membership. Seer's suite of proprietary applications, including its Thryallis Survey Accelerator and Accountability Module (both patent pending) along with its new digital PMA and Sibi, deliver powerful, easy-to-use analytical solutions for non-technical users.
Contact:
Chelsea Allison
813-421-6240
Callison@seeranalytics.com
Contact
Seer Analytics
Chelsea Allison
813-440-2156
seeranalytics.com

Contact