Group of University of Notre Dame Students Launches Kickstarter Campaign to Revolutionize Audio Industry with "Mini-O: The Powerful, Pocket-Sized Speaker"
Consumer electronics and tech company founded by a group of undergraduate students from the University of Notre Dame, Flato Inc., has announced the launch of a Kickstarter campaign to raise funds for its new product Mini-O. Mini-O is a powerful and portable Bluetooth speaker made with innovative and unprecedented technology that has never been seen before in the U.S.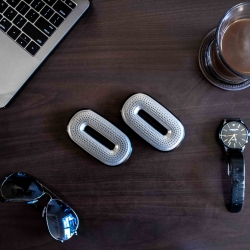 Notre Dame, IN, October 17, 2017 --(
PR.com
)-- New start-up Flato Inc., founded and run by four college students, has announced that it is raising funds through a crowdfunding campaign on Kickstarter (
https://goo.gl/t8cqcY
) to start mass production of its new product. Mini-O is a powerful, pocket-sized Bluetooth speaker made with cutting-edge speaker technology. This speaker, with a modern and singular design, has the best sound-to-weight ratio among existing portable Bluetooth speakers on the market due to its utilization of a newly introduced speaker technology called "Flat Magnetic Speaker Technology."
This technology modifies the fundamental structure of speaker design by using a flat magnet as opposed to the conventional cone-shaped magnet. This allows for FMS technology to address major drawbacks faced by typical speakers. FMS technology increases a speaker's performance greatly while reducing the size and weight anywhere from 30% to 70%. In fact, FMS technology allows Mini-O to be the lightest speaker on the market compared to speakers of similar output.
Flato Inc. was founded by University of Notre Dame undergraduate students' Brian Cho, Peter Moeckel, Kunwoo Philip Park, and Erikc Perez-Perez. After discovering this ground-breaking technology in the Asian market, these students decided to bring it to the United States. They partnered with the patent owner in South Korea and developed their first product, Mini-O; a truly travel-friendly Bluetooth speaker that could easily fit in one's pocket. While it is the lightest speaker available compared to speakers of similar output, the Mini-O also has a sleek, contemporary shape complete with a built-in stand. This creative design breakthrough frees Mini-O from the shape limitations of conventional speakers.
Mini-O is currently available for preorder on Kickstarter (https://goo.gl/t8cqcY) at a discounted price of $55 for a pair (2 Mini-Os). All orders are scheduled to be delivered in December. Please contact sales@flatoinc.com for any questions or inquiries.
Contact
Flato Inc.
Peter Moeckel
(860) 305-5521
www.flatoinc.com

Contact