NYU and iGrad to Provide Financial Wellness Education for Diverse Student Population
New York University is empowering their students with invaluable financial wellness guidance via iGrad.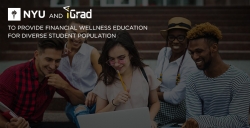 San Diego, CA, October 17, 2017 --(
PR.com
)-- New York University has partnered with iGrad, an award-winning online financial literacy platform, to empower their student population with invaluable financial guidance.
New York University (NYU) presented a unique challenge when seeking a partner to provide
financial literacy education
, since the institution consists of three international, degree-granting campuses with a diverse and substantially international (26%), student population. Lynn Higinbotham, Assistant Vice President of Enrollment Management at NYU, required a financial literacy platform able to cater to many cultures and financial backgrounds. She stated "As we prepare students to be successful local and global citizens of the world, we understand that financial education is an integral part of that success. At NYU we have a large, diverse population of students. An online platform of valuable information seemed to be a practical way to reach everyone." Kris Alban, Executive Vice President of iGrad, spoke about the mutually beneficial partnership. "Adaptability is one of the core strengths of iGrad. We have worked to present a platform that responds to a wide spectrum of students' backgrounds and incomes thereby ensuring each student is provided the same chance to make wise financial choices. Partnering with NYU demands that iGrad continue to grow and cater to a vast audience, thereby maintaining our vision."
Higinbotham went on to speak about the cost restrictions NYU faced when considering financial literacy: "As an institution concerned about affordability, we recognized that the responsibility for keeping costs down rested with both the University as well as our students and their families. We wanted a tool that students wouldn't find intimidating, but would provide insight into a wide range of financial information, and also wanted to customize for our students." Therefore, in order to successfully engage the broad range of student cultures, finances and education, the platform must offer flexibility, customization, and affordability.
iGrad, an adaptive financial literacy platform, offered the flexibility, customization and dynamic range of topics NYU desired. The iGrad platform presents financial education on several topics including budgeting, saving, loan counseling, and personalized student loan tracking. The platform utilizes a variety of resources - such as videos, games, infographics, webinars, quizzes, calculators and peer-to-peer interaction - in order to appeal to a variety of learning styles. "There are several aspect of iGrad that we find beneficial, but the ones that drew us to iGrad included the breadth of financial topics covered and the range of learning options. Everyone can benefit, on their own time, via a method that is appealing to them," detailed Higinbotham. Additionally, the extensive support offered through the iGrad platform was a tipping point for NYU as stated by Higinbotham, "We were seeking a product that provided a high level of support. Chat options for students, marketing plans for administrators, insightful data reports...iGrad was able to provide that for us."
The provided financial literacy education is in addition to iGrad and NYU partnering for the Department of Education's loan counseling initiative; an attempt to heighten students' debt awareness through experimental loan counseling. iGrad will act as NYU's loan counseling alternative for the totality of the multi-year experiment.
Moving forward, NYU hopes to encourage usage on the iGrad platform with advisors "integrating [iGrad] into their conversations to students about affordability and financial responsibility in general," said Higinbotham. However, Higinbotham states, more work remains to engage the extensive student population across NYU's several campuses. "We are excited to have iGrad available to the NYU community now and it's our responsibility to ensure that students are aware of the tool and are encouraged to use it."
About iGrad:
iGrad is privileged to partner with over 600 campuses across the country to provide an industry-leading, customizable platform, which connects over 1.2 million students, as well as alumni and staff, with the tools needed to succeed in the real world of personal finance. iGrad is the only online community providing a comprehensive and customized financial literacy program featuring career assistance for students and graduates, user-specific financial education courses, and video-based student loan entrance and exit counseling. iGrad's recent accolades include: 2013 & 2015 Education Program of the Year, the Institute for Financial Literacy; Best Product of 2013, 2014 & 2015, University Business magazine; and Outstanding Consumer Information Award, Association for Financial Counseling, Planning and Education (AFCPE).
About New York University:
Founded in 1831, New York University is now one of the largest private universities in the United States. Of the more than 3,000 colleges and universities in America, New York University is one of only 60 member institutions of the distinguished Association of American Universities. From a student body of 158 during NYU's very first semester, enrollment has grown to more than 50,000 students at three degree-granting campuses in New York City, Abu Dhabi, and Shanghai, and at study away sites in Africa, Asia, Australia, Europe, North and South America. Today, students come from every state in the union and from 133 foreign countries.
Contact
iGrad
Egan O'Keefe
760-487-8414
http://enrich.org

Contact