New Book Cracks Code - The Secret Behind Our Perception Finally Revealed
Eye surgeon Dr. Brian Boxer Wachler has spent the better part of two decades treating people's sight, giving him a unique insight into how we use the gift of vision, including our power of perception. His new book, "Perceptual Intelligence" - praised in reviews by Dr. Phil, Dr. Travis Stork, Caitlyn Jenner, Montel Williams, Apolo Ohno, and apl.de.ap - unlocks the secret behind our sense of perception.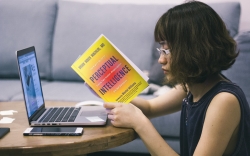 Beverly Hills, CA, October 17, 2017 --(
PR.com
)-- On October 17, 2017, eye surgeon
Dr. Brian Boxer Wachler
, known as "America's TV Eye Doctor," and publisher New World Library today released a code-breaking new book entitled Perceptual Intelligence that reveals the secrets behind our perceptions.
How can two people perceive the same conversation in totally different ways? What compels some to pay $100 for "cat poop coffee"? Why do some people see the Virgin Mary in a grilled cheese sandwich? Why do we get a bad feeling about somebody we've just met? How can you recognize when you're being manipulated?
With a combination of verve and scientific rigor evocative of Malcolm Gladwell or Oliver Sacks, Dr. Boxer Wachler guides readers on a fascinating tour of sensory perception, its pitfalls, and ultimately how to make better decisions in life.
With a foreword by Emmy Award-winning media personality Montel Williams, the book explores topics such as persuasion, intuition, sports, mind tricks and illusions, extreme beliefs, self-delusion, and celebrity worship. It concludes with a "Perceptual Intelligence Assessment," offering ways to improve your Perceptual Intelligence and decision-making abilities.
Dr. Boxer Wachler's Perceptual Intelligence has received stellar reviews from the likes of TV host Dr. Phil, bestselling author Dr. Robert Cialdini, musician Apl.de.ap, author and activist Caitlyn Jenner, TV host Dr. Travis Stork, tennis champion and commentator Pam Shriver, eight time Olympic medalist Apolo Ohno, professional baseball player Tommy Pham, and best-selling author Leil Lowndes.
"Perceptual Intelligence draws you in on every page--whether you have an intellectual interest in the sciences, psychology, sociology, sports, religion, the creative arts, or sexuality, this book provides brilliant insights and clarity to help you see yourself better and identify when your perceptions might be spot on target - or are leading you far astray."
- "Dr. Phil" McGraw, host of Dr. Phil
"I've used visualization techniques to get a mental edge throughout my career, but Dr. Brian Boxer Wachler's Perceptual Intelligence book takes mind/body to a whole new level. Perceptual Intelligence has the power to help people find the champion and truth-teller within themselves."
- Apolo Ohno, eight time Olympic medalist
"With his new book, Dr. Brian Boxer Wachler expands our view of human perception by showing us that a new science is emerging - one that holistically integrates the many factors that influence our beliefs, and decision making."
- Montel Williams, Emmy Award-winning media personality
Dr. Boxer Wachler is an internationally renowned eye surgeon, who earned the nickname "America's TV Eye Doctor" after performing live surgery in front of millions of viewers on NBC's Today. He is a regular contributor to local and national TV programs (including CBS's The Doctors), a columnist for The Huffington Post, and a frequent contributor to newspaper and magazines.
Perceptual Intelligence (published by New World Publishing) is available in bookstores October 17, 2017 on
Amazon
,
Barnes & Noble
, and
Indie Bound
.
Follow Dr. Boxer Wachler:
@DrBoxerWachler
Contact
Lucid Public Relations
Jonathan Franks
310-735-9001
www.BoxerWachler.com
Media Contact: Jonathan Franks/Lucid Public Relations

Contact