"On This Day In Golf History" Book Now for Sale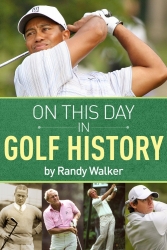 New York, NY, October 24, 2017 --(
PR.com
)-- "On This Day In Golf History," the day-by-day historical book compilation of anniversaries in the history of golf written by Randy Walker, is now available for sale.
Fun and fact-filled, this 433-page compilation offers anniversaries, summaries, and anecdotes of events from the world of golf for every day in the calendar year. Presented in a day-by-day format, the entries into this mini-encyclopedia include major tournament victory dates, summaries of the greatest rounds ever played, trivia, and statistics as well as little-known and quirky happenings. Easy-to-use and packed with fascinating details, this compendium is the perfect companion for golf and general sports fans alike. It's a must for every country club and golf course in the world.
The book is available for $18 and can be purchased where books are sold, including here at Amazon.com: https://www.amazon.com/dp/1937559610/ref=cm_sw_r_tw_dp_x_jdo3zbKTGHBG4
Fans can also follow the book on Twitter at @ThisDayInGolf
The compilation features the greatest players in the history of the sport, including Jack Nicklaus, Tiger Woods, Bobby Jones, Tom Watson, Phil Mickelson, Jordan Spieth, Rory McIlroy, Annika Sorenstam among many others. It also features many famous – and obscure – happenings in the sport, from Johnny Miller's famous final-round 63 at the 1973 U.S. Open to Oakmont to Andrew Magee making the first hole-in-one on a par 4 in PGA Tour history at the Phoenix Open to 11-year-old Lucy Li becoming the youngest player to compete at the U.S. Women's Open to 103-year-old Gus Andreone becoming the oldest player to score a hole-in-one to Kevin Murray making the longest double-eagle on record on the 647-yard par 5 second hole at the Guam Navy Golf Club.
Walker is a passionate golfer who attended his first major golf tournament at the 1983 U.S. Open at Oakmont. He got the autograph of both Jack Nicklaus and Arnold Palmer during that event and even asked Nicklaus if he had a golf ball after completing his third round. "Son," Nicklaus said to the 14-year-old Walker with a wink as his signed his program. "I have a whole factory of golf balls." Walker is known more in the tennis industry as the long-time press officer for the U.S. Tennis Association, the U.S. Davis Cup team and the U.S. Olympic tennis team. He also wrote the books "On This Day In Tennis History" and "The Days of Roger Federer" using the unique day-by-day content format. He is 1991 graduate of the University of Georgia, where he was member of the men's tennis team, and lives in New York City and Vero Beach, Florida.
Founded in 1987, New Chapter Press (www.NewChapterMedia.com) is also the publisher of "The Secrets of Spanish Tennis" by Chris Lewit, "Andy Murray, Wimbledon Champion: The Full Extraordinary Story" by Mark Hodgkinson, "The Bud Collins History of Tennis" by Bud Collins, "The Wimbledon Final That Never Was" by Sidney Wood, "Titanic: The Tennis Story" by Lindsay Gibbs, "Sport of a Lifetime" by Judy Aydelott, "Macci Magic: Extracting Greatness From Yourself And Others" by Rick Macci with Jim Martz, "How To Permanently Erase Negative Self Talk So You Can Be Extraordinary" by Emily Filloramo, "Acing Depression: A Tennis Champion's Toughest Match" by Cliff Richey and Hilaire Richey Kallendorf, "The Greatest Tennis Matches of All-Time" by Steve Flink, "The Education of a Tennis Player" by Rod Laver with Bud Collins, "Roger Federer: Quest for Perfection" by Rene Stauffer, "The Days of Roger Federer" by Randy Walker, "Absolute Tennis" by Marty Smith, "Jan Kodes: A Journey To Glory From Behind The Iron Curtain" by Jan Kodes with Peter Kolar, "Tennis Made Easy" by Kelly Gunterman, "On This Day In Tennis History" by Randy Walker (www.TennisHistoryApp.com), "A Player's Guide To USTA League Tennis" by Tony Serksnis, "Court Confidential: Inside The World Of Tennis" by Neil Harman, "A Backhanded Gift" by Marshall Jon Fisher, "Boycott: Stolen Dreams of the 1980 Moscow Olympic Games" by Tom Caraccioli and Jerry Caraccioli (www.Boycott1980.com), "Internet Dating 101: It's Complicated, But It Doesn't Have To Be" by Laura Schreffler, "How To Sell Your Screenplay" by Carl Sautter, "Bone Appetit: Gourmet Cooking For Your Dog" by Suzan Anson, "The Rules of Neighborhood Poker According to Hoyle" by Stewart Wolpin among others.
Contact
New Chapter Press Media
Randy Walker
917 770 0843
www.NewChapterMedia.com

Contact