A New Start-Up Company Aims to Help Automotive Consumers Receive Refunds for Extended Warranties, Gap Insurance, Maintenance Plans and More
Car Buyers That Have Sold, Traded, Refinanced or Totaled Their Car Within the Last 6 Years Might Just be Owed a Refund. According to MyWarrantyRefund.com, a consumer rights service, tens of millions of dollars in pro-rated warranty refunds go unclaimed every year.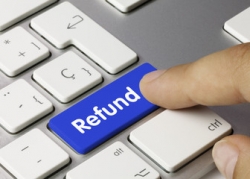 San Diego, CA, October 25, 2017 --(
PR.com
)--
MyWarrantyRefund.com
(MWR) is on a mission to bring awareness to all auto consumers about their rights to receive refunds for extended warranties, gap insurance, maintenance plans, tire/wheel protection, and several more.
MyWarrantyRefund.com was created a little over a year ago and has already helped auto consumers receive more than $170K in refunds that may of otherwise been forgotten. The CEO of MWR has personally spent several years in the auto industry and quickly realized a need for a service that protected the automotive consumer. Millions of dollars in available refunds go unclaimed every year simply because consumers are unaware they are entitled to a pro-rated refund should they no longer need or want the protection coverages.
For example, if you recently sold, traded, refinanced or even total your vehicle prior to the warranties/insurances expiring, you might want to check your eligibility for a refund. "Refunds are just not talked about within the industry," says the CEO of MWR. "Our goal is to break the silence and start educating and reminding consumers of their refund rights. These refunds can be a significant amount of money so you can't expect or rely on dealers or warranty companies to go out of their way to refund you money."
The current cancellation process practiced by most dealers can be difficult to understand and follow for the average car buyer. Where do I go? What do I do? What paperwork do I need? These are just a few of the questions you will be asking yourself if you ever find yourself in a position to qualify for a refund. Over the years, consumers that have attempted to receive a refund quickly found out how difficult and time consuming the process can be. Dealers and warranty companies are about putting money in their pockets, not take it out so its common to have to wait more than 60 days to receive a refund, sometimes even longer. MWR has two things in mind when handling a refund for a consumer:
1. To maximize the amount of the refund received.
2. To expedite the entire cancellation process in the quickest way possible.
Cancellation procedures and policies vary from state to state so its important to know what is required if you want a successful outcome. Included in MWR's service is a personalized cancellation letter for each consumer that is specific to their situation so that there is no confusion when the paperwork is submitted to the proper cancellation departments.
MWR offers a free refund analysis for everyone. Simply fill out their two minute refund form online and they will notify you within 24 hours the results. Consumers can also utilize a free online refund calculator so they have a good idea what to expect for a refund. Having a resource available like this will certainly help eliminate the millions of dollars in unclaimed refunds. Mywarrantyrefund.com has already achieved 5 star reviews on social media outlets like Facebook and Twitter. So the next time you sell, trade, or refinance your car, make sure you check your refund eligibility.
Contact
MyWarrantyRefund.com
Chad Reist
858-375-4596
https://www.mywarrantyrefund.com

Contact