LightPointe Wireless Kicks Off Its 20th Year Anniversary Celebration with Special Incentives on AireLink 80 GHz Point to Point Radios
Company offers free shipping and feature upgrades worth over $2,000 on 80 GHz E-Band radios. Orders must be placed before December 31, 2017.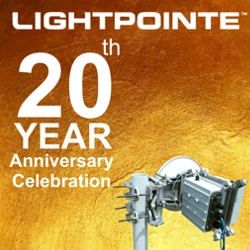 San Diego, CA, November 01, 2017 --(
PR.com
)-- LightPointe, the leading manufacturer of hybrid outdoor point to point radios, announced the first in a series of special customer appreciation promotions to celebrate the company's 20th year in business. Founded in 1998, LightPointe has established a long record of innovation in 60 GHz and 80 GHz radios, and Free Space Optics laser bridges. The first of the company's incentives - which focuses on the AireLink 80 Series 1.25 Gbps and 2.50 Gbps solutions - is for orders placed November 1 through December 31st, 2017. Customers will receive free shipping worldwide on the 8 inch (20cm), 1 foot (30cm), and 2 foot (60cm) antenna configurations, free initial USA regulatory licensing, and choices of upgrade features including Bluetooth Street-Level Monitoring and Enhanced Performance Recording valued at $350, or AES 256 ultra-secure encryption valued at $2,000.
"We're excited to kick off our 20th Year Anniversary Celebration with special customer appreciation savings to thank our loyal distributors, resellers, and end-users for 20 years of success in the wireless bridge business," said John Taylor, vice president of sales for LightPointe. "Since 1998, LightPointe's engineers have led the industry with groundbreaking advancements in Gigabit capacity performance and reliability, with many of our first products still in use today twenty years later. Our first promotion in our 20th Year Anniversary Celebration starts now and focuses on our acclaimed AireLink 80 Series. The AireLink 80 Series includes the world's highest performance carrier grade point to point wireless bridges. And each radio includes LightPointe's exclusive nine levels of Adaptive Coding & Modulation which automatically optimizes wireless links in real time - providing all-weather operation beyond competing wireless bridges."
LightPointe's AireLink 80 Series provides fiber-like long distance building connectivity for schools, businesses, government buildings and hospitals - without trenching/installing fiber or the recurring costs of leased-line alternatives.
Features:
- Up to +70 dBm max EIRP for reliability & long distance.
- High speed full-duplex up to 2.5 Gbps with low latency.
- Real-time Full Line Speed FIPS AES 256 encryption option.
- 9+ mile distances.
- Link protection that comes with light licensing.
About LightPointe
LightPointe (www.LightPointe.com) manufactures wireless bridges for enterprises and 4G/5G/LTE carriers which are deployed for secure data transmission and digital video security camera backhaul. The company is owned by a billion-dollar Silicon Valley firm and employees. LightPointe's wireless bridges are manufactured at its San Diego, California Design Center, and is an ISO 9001:2008 registered firm. LightPointe is the first company to introduce a 20 Gbps 80 GHz radio solution and holds numerous patents in hybrid radios and Free Space Optics laser bridges. LightPointe's Gigabit capacity products (1.25 Gbps, 2.50 Gbps, 10 Gbps, 20 Gbps) compete against Siklu, Bridgewave, Ignitenet, NEC, Aviat Networks, E-Band, Ubiquiti, Redline Communications, Dragonwave, Cambium Networks, Radwin, Ceragon, SIAE Microelettronica, Airspan, and other manufacturers of licensed, light licensed, and license-free backhaul radios. LightPointe has wireless distributors, resellers, and integrators worldwide, including Germany, France, United Kingdom, Italy, Spain, Brazil, Argentina, Chile, Mexico, Canada, China, Singapore, India, and Japan. LightPointe, founded in 1998, is celebrating its 20th Year Anniversary.
Contact
LightPointe Communications, Inc.
Todd Easterling
+1-858-834-4083
www.lightpointe.com

Contact
Multimedia
LightPointe AireLink 80 GHz 1.25 and 2.50 Gbps backhaul radios, used in point to point building and tower connectivity.