Principled Technologies Compares Vulnerability and Security Coverage of Leading Vulnerability Management Vendors
Tenable.io covered more CVEs than either Rapid7 InsightVM or Qualys Cloud Platform.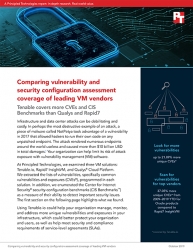 Durham, NC, October 10, 2019 --(
PR.com
)-- Infrastructure attacks can be costly and debilitating, but organizations can limit their risk of exposure by using vulnerability management software. According to a recent study from Principled Technologies (PT), Tenable.io covers more common vulnerabilities and exposures (CVEs) than comparable vulnerability management solutions from Rapid7 and Qualys, potentially helping organizations better protect themselves and better meet the security and compliance requirements of service-level agreements.
The study compared three vulnerability management solutions: Tenable.io, Rapid7 InsightVM, and Qualys Cloud Platform. The analysis from PT found that Tenable.io covered 19% more CVEs than InsightVM and 21% more CVEs than Cloud Platform. Tenable.io also achieved distinction in other categories, covering more high-severity CVSSv2 CVEs than InsightVM every year from 1999-2018 and covering more high-severity CVSSv2 CVEs than Cloud Platform in all but three years during that same period.
According to the report, "Vulnerability management could aid your organization's data-protection efforts, and choosing Tenable.io could allow you to find more vulnerabilities across your environment."
For more information, read the full report at
http://facts.pt/w5e65zu
.
About Principled Technologies, Inc.
Principled Technologies, Inc. is the leading provider of technology marketing and learning & development services.
Principled Technologies, Inc. is located in Durham, North Carolina, USA. For more information, please visit
www.principledtechnologies.com
.
Company Contact
Principled Technologies, Inc.
1007 Slater Road, Suite #300
Durham, NC 27703
press@principledtechnologies.com
Contact
Principled Technologies, Inc.
Jasmine White
919-941-9812
http://www.principledtechnologies.com/

Contact