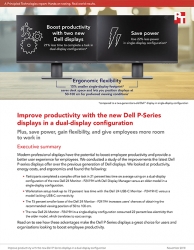 Durham, NC, November 15, 2018 --(
PR.com
)-- The business benefits of refreshing employees' older PCs with newer, faster models are straightforward—less time waiting for a system to respond equals more time on task. Having the right monitor setup can also improve employee productivity.
Principled Technologies tested new Dell P-Series displays along with an older Dell monitor. They found that a panel of users could complete office tasks more quickly using the Dell 24 Monitor - P2419H in dual-display configuration with Dell Display Manager than they could using an older monitor in a single-display configuration. The new display had other advantages as well: Its smaller footprint and greater adjustability could let workers more easily put it in an optimal ergonomic position, and it used less power than the older monitor.
Meanwhile, the USB-C-enabled Dell 24 USB-C Monitor - P2419HC streamlined the process of connecting and disconnecting laptops and peripheral devices, cutting the time users spent fussing with peripherals compared to an older Dell display without USB-C connectivity.
As the report says, "All buyers have choices when selecting the displays that the employees across their organization will use. As we've seen, selecting a Dell P-Series display offers many advantages over the older Dell model we tested."
To learn more about the findings of this study, read the report at
facts.pt/lg4li4
.
About Principled Technologies, Inc.
Principled Technologies, Inc. is the leading provider of technology marketing and learning & development services.
Principled Technologies, Inc. is located in Durham, North Carolina, USA. For more information, please visit
www.principledtechnologies.com
.
Company Contact
Principled Technologies, Inc.
1007 Slater Road, Suite #300
Durham, NC 27703
press@principledtechnologies.com