Principled Technologies Releases Study Comparing the Database Workload Performance of the Dell EMC PowerEdge MX with VMware vSAN to Two Competitors
In hands-on testing, Principled Technologies (PT) found that a Dell EMC PowerEdge MX solution running a VMware vSAN environment delivered more database operations per minute (OPM) and shorter response times than comparable Cisco UCS and HPE Synergy solutions.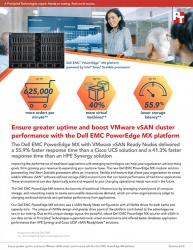 Durham, NC, November 12, 2017 --(
PR.com
)-- Emerging technologies, such as modular servers and software-defined storage (SDS), can boost the performance of traditional applications to help grow a company's revenue and expand its customer base. An Intel Xeon Scalable processor-powered Dell EMC PowerEdge MX solution with VMware vSAN SDS technology in the PT datacenter supported more virtual environments and offered better database application performance than HPE Synergy and Cisco UCS vSAN ReadyNode solutions.
According to the report, "The new Dell EMC PowerEdge MX modular solution powered by Intel Xeon Scalable processors offers an innovative, flexible architecture that allows your organization to create sizable VMware vSAN software-defined storage (SDS) environments that can boost performance of traditional applications. These environments can also dynamically scale and respond to your changing operational needs now and in the future."
In addition to increased database workload performance, the Intel processor-powered Dell EMC PowerEdge MX solution supported more virtual machines (VMs), shorter response times, and more input/output operations per second (IOPS).
To learn more about how a Dell EMC PowerEdge MX solution could help improve database application performance, read the full report at
facts.pt/3jrn39
or executive summary at
facts.pt/smvdnnb
, and see the infographic at
facts.pt/2jyjt3
.
Contact
Principled Technologies, Inc.
Jasmine White
704-712-1115
http://www.principledtechnologies.com/

Contact