Principled Technologies Finds Intel Optane Memory Can Improve Responsiveness in Hard Drive-Based Systems, for Less Money Than Traditional RAM
In Principled Technologies' testing, PCs with Intel Optane memory modules obtained stronger benchmark scores than the same PCs with a greater amount of traditional RAM.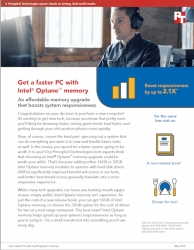 Durham, NC, May 18, 2018 --(
PR.com
)-- When speccing out a new computer, consumers may think adding extra RAM is the best way to get a faster device - even when that RAM is a pricy addition. Principled Technologies (PT) found that Intel Optane memory modules can offer a more responsive system at a lower price point.
PT compared a set of hard-drive-based PCs with Intel Optane memory to the same PCs with more RAM but without Intel Optane memory. PT found that the devices with Intel Optane memory modules scored up to 1.8 times higher on the SYSmark 2014 SE responsiveness test, which could imply a generally faster device. Intel Optane memory was also less expensive than the additional RAM: The report shows that consumers can get 16GB of Optane memory "for the cost of a hardcover book," and 32GB for "the cost of dinner for two at a mid-range restaurant."
For more on how Intel Optane memory can boost a computer's responsiveness for a lower investment than traditional RAM, read the full report at
http://facts.pt/woyc7m
.
About Principled Technologies, Inc.
Principled Technologies, Inc. is the leading provider of technology marketing and learning & development services.
Principled Technologies, Inc. is located in Durham, North Carolina, USA. For more information, please visit
PrincipledTechnologies.com
.
Contact
Principled Technologies, Inc.
Natasha Simmons
704-712-1115
http://www.principledtechnologies.com/

Contact