NumRush | A Fun Board Game That Changes How to Learn Math
Coming from Vietnam, this board game has made Math Exciting for Kids everywhere by fun gameplay and engaging storytelling all over the world. Now the game is available on Kickstarter.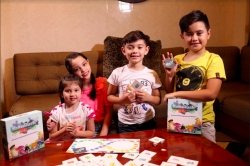 Chicago, IL, November 08, 2017 --(
PR.com
)-- NumRush US LLC announced the launch of its inaugural product - The NumRush Board Game on Kickstarter. The game is a race where players (age 8+) compete against others in a fantasy math world by solving little number puzzles. The company set out to raise $30,000 on Kickstarter to produce the first batch of 1,000 products that hope to change the Math learning experience for kids.
Nhat Le, the company founder said, "We know Math can sometimes be either plain or intimidating to kids, and we hate it when kids are disconnected from a Math game. Numrush set to solve the problem by being a fun game at first, then a Math game later. NumRush team thus spent two years on game design development to strike the balance of simplicity and versatility to make a Math Game both fun and highly replay-able."
The game was stated to be inspired from the classic Scrabble: players race to assemble different number cards to form an operation with a perfectly random result. The game play is simple enough to be learnt in 5 minutes yet its endless possibilities of game setup make it versatile and intriguing to replay. Younger kids with basic addition/subtraction skills were reported to win against older ones with more complex skills like division/multiplication.
Embarking from their love for Math, NumRush founders see Numbers and Arithmetic a lively world where numbers interact with each other to create something else. They thus built the NumRush World in which numbers turn into living creatures and math operations turn into magical spells. This simple twist makes the numbers more friendly and approachable for younger kids.
NumRush was beta-launched in Vietnam this June was successfully supported by a community of 200,000 Board Game enthusiasts for its fun gameplay. Since Math is a universal language, NumRush team aimed to bring the fun to kids all over the world. The game was then road-tested and welcomed all over the world, in different developed countries including Singapore, HongKong, Canada, UK and the US.
NumRush Kickstarter campaign launches on November 7th, 2017. For more details on the Kickstarter campaign or to get the very first NumRush game, visit:
www.bit.ly/NumRush
About the founders
NumRush was founded by Nhat Le and Tuan Ngo, childhood friends who went to Math-specialized class together. Fast forward to 2016, they both became successful businessman at the age of 26 and they attributed their success to Mathematical thinking. Sharing the love for board game and the appreciation for Math, they developed NumRush to share this Fun way of interacting with Math with younger kids.
Contact
NumRush US LLC
Giang Ngo
657-296-2275
www.numrushmathgame.com

Contact