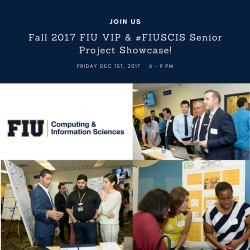 Miami, FL, November 30, 2017 --(
PR.com
)-- Computer Science students at Florida International University (FIU) are working with SOP Technologies to help develop a "Smart Stormwater" system.
FIU Seniors worked on building a web app to help cities track and analyze data captured by wireless sensors. SOP Technologies' Smart Stormwater system is an Internet of Things (IoT) solution that uses sensors and web interfaces to prevent water pollution, prevent floods due to clogged stormwater pipes, and help communities save money in stormwater pollution maintenance/removal.
"Collaborating with FIU helps us advance Research & Development efforts, while tapping into the highly skilled Engineering talent in Miami-Dade County."
- Emilio Lopez, SOP Technologies CEO
The Smart Stormwater project, along with the work of several FIU students, will be presented during the FIU VIP & FIUCIS Senior Project Showcase Night on 12/1/17. The event is open to the public and is a great opportunity to meet the next generation of Engineers in the Miami area.
For event details and to sign up, visit the SOP Technologies blog post at
https://soptechint.com
The FIU VIP & FIUSCIS Senior Project Showcase Night celebrates FIU students' innovative solutions to challenging problems posed by research faculty and their industrial partners. You will see proof-of-concept system demos and interact with talented students who are about to graduate. Discover great talent and learn how our students are solving difficult problems. This interactive event provides opportunities to learn about new system development techniques and to network with FIU faculty, staff, and students along with local industry executives, engineers and recruiters.