Real Estate Photography Has Been Revolutionized and Realtors Are Saving Thousands
Febre Frameworks, a Real Estate Photography company funds Febre University in order to teach realtors to photograph real estate properties and help realtors cut their marketing costs by almost half.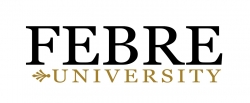 Tampa, FL, December 14, 2017 --(
PR.com
)-- Febre University will train all realtors nationally to photograph properties and save thousands of dollars per year, adding additional income in the realtor's pockets. This is being accomplished with a complete online course. The course has videos for each chapter along with a textbook. The textbook is complete with diagrams and final photos that correspond with the diagrams, along with common rules that can be applied to any room or angle that is being photographed. This course also provides the exact camera settings required. Making it simple to capture images in the correct light. The Online course is also accompanied with quizzes at the end of each chapter to solidify the knowledge in the student. The quizzes are a mixture of true and false along with multiple choice questions.
Febre Frameworks, a Real Estate Photography Company & a partner of Febre University, conducted an audit of 100 of its clients to get an average amount spent per Realtor, per year. The sum exceeded $2500 a year or roughly $200 a month in real estate photography services per Realtor. Real Estate Photography is thought to be a form of art that one must have an eye for, which if shooting for magazines that is probably the truth, but since the goal of photographing homes that are being listed is to ensure their sale, a proven concept was established using the Febre Method.
This system works so well that Febre Frameworks hires individuals with no prior knowledge in photography and has them photographing properties within one week as if they had been doing it for a decade. At the end of the course which equate to approximately 30 minutes, the student will be able to pick up a camera and start photographing properties that are professional in quality. Febre University is funded by Febre Frameworks and was officially launched December 3rd of 2017 and is offering a low introductory price for its new students through January.
About Febre University, LLC: Febre University, LLC is an online University based in Tampa, FL. Founded in December 2017, Febre University has designed, developed and produced a systematic method of photographing Real Estate Properties. Sean Febre, one of the Co-Founders of Febre University, LLC was voted one of the Up & Comers under 30 by the Tampa Bay Business Journal in 2017. For more information, visit Febre University's web site at
http://www.febreuniversity.com
About Febre Frameworks, LLC: Febre Frameworks, LLC is Real Estate Photography company based in Tampa, FL. Founded in July 2016, Febre Frameworks has grown from a one-person operation to a 16 person company of photographers and editors. Sean Febre, the original Founder of Febre Frameworks, LLC was voted one of the Up & Comers under 30 by the Tampa Bay Business Journal in 2017. For more information, visit Febre Frameworks' web site at
http://febreframeworks.com
Contact
Febre University LLC
Sean Febre
813-906-8300
www.febreuniversity.com
Mobile: 813-385-6609

Contact