Berg Engineering Releases World's First Battery Operated Handheld Explosion Proof UV Inspection Light
Non-Destructive & Material Testing Company Launches Labino MidBeam Hercules EX Worldwide (L3000).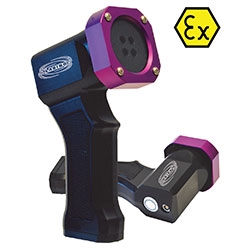 Rolling Meadows, IL, January 04, 2018 --(
PR.com
)-- Recently, Berg Engineering & Sales, Company Inc., specializing in nondestructive and material testing equipment and service, launched sales on the world's first handheld, battery operated explosion proof UV Inspection Light. Created by Labino AB in conjunction with Berg Engineering, the
MidBeam Hercules EX
has a lightweight, ergonomic design and was specifically created for use in areas where flammable petrochemical vapors and/or pulverized dust can exist, leading to a high risk of explosion – e.g. offshore oil rigs, refineries, and aerospace and defense industries. The Hercules Ex is ATEX certified for Group II, Zone II (Certificate: ITS17ATEX402144X), IECEx, NFPA 70 Article 500 for Class I (divisions II locations), and Explosive Atmosphere Test as per MIL-STD-810G. The Hercules Ex comes equipped with four UV LEDs emitting UV light with an intensity of 4,000 μw/cm2 and an estimated 30,000 hours lifespan and complies with ASTM E3022-15, Rolls-Royce RRES 90061 and Airbus AITM6-1001. The light averages 3 hours run time on two fully-charged batteries (four 3.6V batteries are included), and can be charged internally or with an included external charger. The unit also ships with UV Goggles and a carrying case.
Regarding the new UV Inspection Light, Labino CEO Lisel Athanasiadis stated, "Explosions at hazardous locations have on many occasions caused loss of life and destruction of physical assets worth millions of dollars. UV lights without an 'explosion proof' classification are used today in hazardous locations around the world causing expensive shutdowns of operations. Performing the required inspections with an explosion proof product that fulfills the requirements of the area where the inspection takes place, ensures that the UV light used will not be the cause of an explosion even when the assets are operational. The cost of replacing or repairing an oil rig, a refinery, a fueling station is massive compared to the investment made on an explosion-proof UV light."
The
MidBeam Hercules Ex
has also passed a multitude of product testing, including:
· Tests for thermal conditioning, Impact Tests, Drop Tests and IP tests that led to ATEX certification (Certificate: ITS17ATEX402144X).
· Tests and audits leading to its certification for IECEx, NFPA 70 Article 500 for Class I (divisions II locations)
· United States military tests
· Salt Fog Test and Explosive Atmosphere Test
· Tests for varied weather conditions - 104° Fahrenheit (+ 40° Celsius) to minus 4° Fahrenheit (- 20° Celsius)
About Berg Engineering & Sales:
Berg Engineering & Sales, Company Inc
. is a provider of nondestructive and material testing equipment, training and services based out of Rolling Meadows, Illinois. Founded in 1969, they provide products from the world's leading manufacturers of test equipment, including GE Baker Hughes, Fluke Electronics, ITW Companies, Labino and more. They are also an ISO17025 accredited calibration and service center.
Contact
Berg Engineering
Marketing
847-577-3980
www.bergeng.com

Contact
Multimedia
The Midbeam Hercules Ex product brochure provides specifics on this extremely durable product specifically designed for use in areas where the risk of explosion is high.