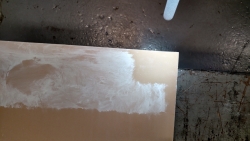 Orange, CA, January 18, 2018 --(
PR.com
)-- Coastal Enterprises announces that a Precision Board HDU tool was successfully dry ice blasted clean with no damage to the surface. Cold Jet, a pioneer in dry ice blasting and global expert on dry ice technology, used dry ice to clean a PBLT-70 tool coated with FSC-88 WB Primer acting as a "contaminant." Dry ice cleaning removed the primer and left the Precision Board HDU surface smooth and with no visible surface deterioration, allowing for multiple cycles of cleaning and resealing of a Precision Board tool.
Steve Wilson, Director of Global Business Development for Cold Jet said, "The contaminant on this sample required a little less pressure than the uncoated sample of PBLT-75 that we also tested, but could be dialed in to clean quite nicely." He added, "The blast pressure was on the very low end of the process capabilities. There is plenty more cleaning capacity if needed."
"From visual, 400X photos and calibers, I can see no deterioration to the Precision Board sample surface," said Wilson. "About 2/3 of it has been cleaned so that you can see the comparison between before and after. The surface of the part still feels very smooth."
Tooling used for, but not limited to, compression molding, resin transfer molding, extrusion, pre-pregging and wet-layup are all exceptional applications for dry ice blast cleaning.
Dry ice blasting is similar in concept to sand or water blasting, but dry ice blasting uses non-abrasive media in the form of recycled CO2 pellets that will not damage surfaces. The combination of dry ice blasting's kinetic energy and thermal effects break the connection between the contaminant and surface, lifting it away. Unlike blasting with other media, dry ice does not leave any secondary waste, because the dry ice particles sublimate upon impact – converting from solid to gas.
About Coastal Enterprises:
Since 1973 Coastal Enterprises has been an innovator and leading manufacturer of urethane products used for a variety of applications in tooling, signage, theming and more. Insist on the HDU trusted by the Aerospace, Composites and Sign Making industries for more than 20 years. Ask for Precision Board Plus by name. Request a free sample or quote, get data sheets and more at precisionboard.com.