PromSocial Launches Mobile App Set to Change the Way Teens Plan, Organize and Share Their Prom Experience
It's no surprise that prom is wildly important to most high school students, as a rite of passage and a night they will likely remember for the rest of their lives. PromSocial, an exciting new startup, focused exclusively on the prom experience, aims to eliminate many of the common prom stresses teens face when planning for their big night.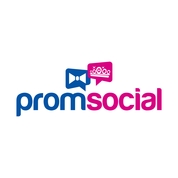 Old Bridge, NJ, February 04, 2018 --(
PR.com
)-- Prom is not something many students want to leave to chance or wait until last minute to plan, and for a very good reason. Without proper planning, the odds of things not working out as well as they could have, are very real. Enter PromSocial; A sleek, user friendly, prom-centric app that streamlines the way teens plan, organize and share their epic night for all to see. PromSocial simplifies the entire prom process from beginning to end and helps prom goers create memories that will last a lifetime.
PromSocial offers a wide range of features which include finding a date, sending promposals, creating a limo party, planning an afterparty, sharing an outfit, and creating a personalized Prombook. Users can even cast votes for all their prom favorites and ultimately crown a "Prom Legend." With PromSocial, prom goers will never miss a beat as they will be updated in real-time on everything that is going down in preparation for the big night.
Co-Founder, Ed Abdel-Malak stated, "Our mission is to streamline the prom experience by bringing all of the activities that encompass prom into an entertaining social platform. We are very excited to be the first to market with an app that offers teens a new way to plan, organize and share their prom experience. We are well positioned to revolutionize the prom industry and change the way teens experience prom across the globe."
Prom goers continue to raise the stakes and look to one-up each other with luxury car rentals and limos, glamorous dresses and tuxedos, and elaborate, over-the-top promposals. Prom is a multi-billion-dollar industry that continues to grow at a rapid pace. PromSocial may have just found the perfect niche to establish itself as a key competitor for this highly coveted user base by delivering a dynamic platform that is easy to use, simplifies the entire prom process and provides an exceptional user experience.
PromSocial is now available for download on iTunes and the Google Play Store. For more information or questions about what PromSocial has to offer, visit
www.promsocial.com
or contact the PromSocial team at ContactUs@promsocial.com.
Welcome to PromSocial, the new way to do prom!
Contact
PromSocial
Michael J. Hudak
732-865-2004
www.promsocial.com

Contact