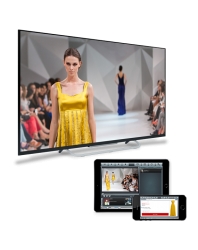 San Diego, CA, January 31, 2018 --(
PR.com
)-- Today, PixFlx is announcing the creation of PixFlxCoin that will provide all consumers with a digital currency account that is tied to their media consumption and in turn their ad consumption. Using PixFlxCoin the company can pay a massive number of consumer rewards without a single transaction fee. Consumers can select objects in the video on the main display (TV/PC/Tablet), such as an article of clothing an actor is wearing, placing it into a cart or showing supplemental information on the secondary screen (Phone/Tablet). This activity is something that everyone will be doing every day in the not too distant future. It is this cryptocurrency that all consumers can continuously use every day, this is an active spend and earn account tied to entertainment. This is set up with registration of a PixFlxCoin account.
The PixFlx digital currency PixFlxCoin will be offering a range of services through partners including e-wallet, reloadable debit cards and conversion of PixFlxCoin. To learn more about PixFlx or the PixFlxCoin platform, please visit PixFlx.com or PixFlxCoin.com.
As of today PixFlx is announcing registration for the Pre-ICO phases of the largest market ever addressed by any ICO at a massive 500+ billion TAM. Here's why it's important, the video object selection and token patent was filed in 2005 and the company formed in 2013, the player prototype is complete and the base API platform was launched and has been in use for years now. It's all coming together now over the next few months, the distributed platform components and partner network will soon be complete. This is big-bang disruption of media & ecommerce markets at an unprecedented scale. Today PixFlx is announcing that you can now register for co-op partner programs as well as Pre-ICO registrations.