Fort Worth Community Arts Center Halprin and Fort Worth: Poetry in Place - Panel Discussion
Fort Worth Community Arts Center Presents Halprin and Fort Worth: Poetry in Place Panel Discussion with Charles Birnbaum, W. Mark Gunderson and Gwendolyn McGinn February 7, 2018, 6pm-8pm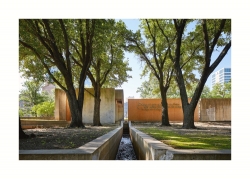 Fort Worth, TX, February 05, 2018 --(
PR.com
)-- Halprin and Fort Worth: Poetry in Place
Panel Discussion
February 7, 2018
6pm-8pm
Fort Worth Community Arts Center
1300 Gendy St, Fort Worth, TX 76107
In conjunction with The Cultural Landscape Foundation's traveling exhibition "The Landscape Architecture of Lawrence Halprin," currently installed at the Fort Worth Community Arts Center through February 17; the panel will focus on the profound legacy of renowned landscape architect Lawrence Halprin, in particular the significant influence he had in the master planning of the Fort Worth downtown area and its relationship to the Trinity River confluence. In addition, the panel will address his design for the 1980 Heritage Park Plaza; listed on the National Register of Historic Places and closed now since 2007.
Panelists will be:
Charles Birnbaum, FASLA, President, CEO and Founder of The Cultural Landscape Foundation, ( TCLF ) in Washington D.C. He spent fifteen years as coordinator of the National Park Service Historic Landscape Initiative and a decade in private practice. He has conceived of and produced all the video oral histories in this series, as well as the 1998 PBS documentary, Connections: Preserving Americas Landscape Legacy, narrated by Angela Lansbury. He has authored and edited numerous publications including the aforementioned Pioneers series. He has taught at Ohio State and Columbia University, and served as a Loeb Fellow. His awards include the American Society of Landscape Architects (ASLA) President's Award of Excellence, Alfred B. LaGasse Medal, President¹s Medal, and the 2017 ASLA Medal, the organization¹s highest honor; and the Rome Prize in Historic Preservation and Conservation.
Gwendolyn McGinn is a project leader at Studio Outside Landscape Architecture, in Dallas, Texas. She graduated from the University of Virginia with a Masters in Landscape Architecture and holds a Bachelor of Fine Arts from the Rhode Island School of Design. During the Restoration and Master Planning for Heritage Park Plaza, Gwen was an integral member of the design team. She was a part of the development of the ideological framework that allowed all design decisions to reflect original design intent.
W. Mark Gunderson, AIA is an architect in private practice in Fort Worth since 1985.
He is a past president of both AIA Fort Worth and the Dallas Architectural Foundation, and is currently on the Advisory Board of the Dallas Architecture Forum, where for 9 years he was Vice-President / Panels and Symposia. He has served on the Steering Committee for the restoration of Lawrence Halprin's Heritage Plaza since its inception in 2009. Gunderson is a recipient of the John G. Flowers Award from the Texas Society of Architects, a Distinguished Alumnus of Texas Tech University College of Architecture and is a Contributing Editor to Texas Architect. He served as local curator for the exhibit.
Media contacts:
Studio Outside
214.954.7160
info@studiooutside.us
W. Mark Gunderson, AIA
817.233.4070
wmgarch@flash.net
Contact
Studio Outside
Laura Swindell
214-954-7160
www.studiooutside.us

Contact