Scannx Simplifies Interlibrary Loan Fulfillment on OCLC's Next Generation Platform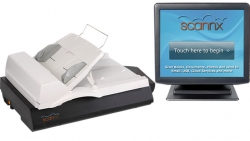 Livermore, CA, February 07, 2018 --(
PR.com
)-- Scannx®, the leader in document capture and document delivery software and cloud services for library patrons and staff, and OCLC, a nonprofit global library cooperative, today announced their collaboration to simplify the interlibrary loan process using Scannx scanning software with OCLC's next generation ILL platform. Scannx will ship this feature in its version 5.0 software in calendar Q1/2018 and will be demonstrated at the ALA Mid-winter conference on February 9-12, 2018, in Denver, CO, booth #945.
Tipasa is the world's first cloud-based interlibrary loan management system, and WorldShare ILL automates cloud-based interlibrary borrowing and lending processes. The Scannx capture software is used in over 2,300 book scanning systems whose library patrons and staff have scanned over 115 million pages, reducing paper and toner costs while saving almost 15,000 trees.
"Scannx and OCLC have a long history of working together to deliver the best technology for our shared customers," said Murray L. Dennis, CEO, Scannx. "Our software connectors to Tipasa and WorldShare ILL will make Interlibrary loan fulfillment as easy as 1-2-3. These upgrades are included at no additional charge to our Scannx customers who implemented our Article Exchange and ILLiad solutions."
"OCLC is always interested in bringing innovative new services and features to libraries," said Mary Sauer-Games, OCLC Vice President, Global Product Management. "Scannx gives libraries a powerful way to further streamline resource sharing workflows in Tipasa and WorldShare ILL.
Tipasa enables libraries to manage a high volume of interlibrary loan requests, automate routine borrowing and lending functions, and provide an enhanced patron experience. It enables them to meet users' needs without heavy IT support, server management, or extensive configuration and training. It takes the existing desktop-based functions of the ILLiad system and moves them to the cloud. For more information on Tipasa, visit https://www.oclc.org/en/tipasa.html.
WorldShare Interlibrary Loan automates cloud-based interlibrary borrowing and lending processes though the largest resource-sharing network in the world. It saves library staff time and ensures timely delivery of items to the people who need them. For more information on WorldShare ILL, visit https://www.oclc.org/en/worldshare.html.
Scannx offers a broad selection of document scanning systems, ranging from entry-level book-edge scanners designed for use by library patrons, to the industry's most advanced Zeutschel A2 and A3+ preservation systems for archival-quality document retention. All are designed to protect the library's investment in its books, while delivering superior ease-of-use that allows unsupervised patrons to make their own copies.
Scannx systems include IoT technology and cloud-based support that make it simple to scan, store, and send digitized content as searchable PDF documents to Dropbox, Google Drive, email, smartphones, and tablets, as well as to local USB drives or printers. For larger installations, Scannx cloud services aggregate usage data across multiple locations, providing performance metrics and benchmarking. Software updates can automatically be pushed and installed, removing unnecessary technical burdens from library management while ensuring maximum availability.
About OCLC
OCLC is a nonprofit global library cooperative providing shared technology services, original research and community programs so that libraries can better fuel learning, research and innovation. Through OCLC, member libraries cooperatively produce and maintain WorldCat, the most comprehensive global network of data about library collections and services. Libraries gain efficiencies through OCLC's WorldShare, a complete set of library management applications and services built on an open, cloud-based platform. It is through collaboration and sharing of the world's collected knowledge that libraries can help people find answers they need to solve problems. Together as OCLC, member libraries, staff and partners make breakthroughs possible.
About Scannx
Scannx® is the leading developer of cloud-based document scanning and delivery solutions for libraries. Scannx markets Scannx and Zeutschel book scanning systems powered by the Scannx software. The company's systems provide powerful, yet extremely easy-to-use, copier-replacement solutions for scanning books, documents, and photos; and instantly store scanned content in the widest range of digital options. Scannx reduces operating costs, makes printed information instantly accessible, and expands the range of services libraries can offer their patrons. Scannx users have scanned over 100 million pages to date. For more information, visit www.scannx.com.
Contact
Scannx, Inc.
Murray Dennis
925-425-0151
www.scannx.com
925-200-7900

Contact