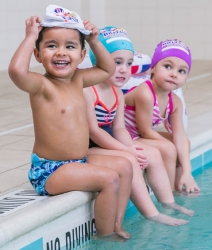 Jersey City, NJ, February 12, 2018 --(
PR.com
)-- Water Safety and Survival School Welcomes New Hudson County Location.
British Swim School, best known for its education of water safety as an essential survival skill amongst a fun and gentle environment, continues its expansion with a new pool location in the city of Weehawken. The New Jersey addition officially opened to the public on January 30th, 2018. This location marks the 4th British Swim School franchise in the Hudson County, NJ market after Secaucus, Bayonne and Jersey City.
The location will be run by franchisee Robert Stapf, who immersed himself into the British Swim School franchise system to improve the level of water-safety training in this underserved community. With so many kids in the area who can't swim, Robert wanted to fill the void for high-quality lessons.
"According to the CDC, drowning is the number one reason of accidental death for children under the age of 5," said Robert Stapf, the British Swim School franchisee. "Parents buy car safety seats for their kids, but they don't always think about swim lessons - which is even more important. We are here to raise awareness and change that."
British Swim School offers a two-step curriculum teaching children and adults of all ages, some as young as three months, water safety and survival skills, along with swimming skill development. While parental supervision is always the number one safety measure, research shows that participation in formal swim programs, such as those offered by British Swim School, can reduce the risk of drowning by 88 percent among children who are most at risk for deaths caused by drowning.
The British Swim School franchise concept operates a unique water safety program with teaching methods that serve as a trademark for the brand. The company offers lessons out of multiple national fitness chains and hotel pools year-round, based on the premise that children progress at different rates. Each child, regardless of age, is placed in their correct skill level and will have certain achievable objectives. British Swim School operates in nearly 200 schools in 20 states within the U.S., and holds nearly 12,000 lessons per week nationally, and conducted nearly 600,000 swimming lessons in 2017.
The newly opened British Swim School Hudson Waterfront is located at the indoor pool of RIVERPARC at Port Imperial, 1300 Avenue at Port Imperial, Weehawken, NJ 07302. For more information about the British Swim School in Hudson County, visit britishswimschool.com/hudsonwaterfront.
About British Swim School
For 35 years, British Swim School has been dedicated to teaching water survival skills to children as young as three months old. CEO Rita Goldberg founded British Swim School in 1981 and developed the unique and highly effective teaching methods that are a recognized trademark of the brand. Headquartered in Ft. Lauderdale, Fla., British Swim School currently operates out of nearly 200 schools within 20 states, and is developing an international presence with locations in Turkey and Canada. The organization holds around 12,000 lessons per week nationally, and conducted nearly 600,000 swimming lessons in 2017. British Swim School has been ranked in Entrepreneur's Franchise 500, Top 50 New Franchises, and the Top 10 Types of Franchises to Watch in 2015. For more information about British Swim School, visit
https://britishswimschool.com/hudsonwaterfront/
and like them on Facebook at
www.facebook.com/BSSHudsonWaterfront