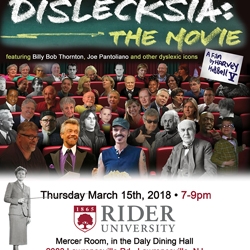 Princeton, NJ, March 05, 2018 --(
PR.com
)--
Reserve Your Free Seat
for the Princeton Film Screening of
Dislecksia: TheMovie
March 15th 7p-9p at Rider University. Join Emmy-winning filmmaker Harvey Hubbell V and expert panel as they uncover little understood history of Dyslexia, which some are now calling a "Super-Power!"
Check out the film trailer here:
https://www.youtube.com/embed/frsR36br74Y
Throughout the film, Harvey Hubbell V (who himself is Dyslexic) shares not only his personal journey from affable preschooler to mislabeled "stupid and lazy kid," but also the vast number of famous names who similarly struggle(d) with Dyslexia, including such luminaries as Albert Einstein, Thomas Edison, Sir. Richard Branson, Pablo Picasso, and Steven Spielberg. The film features "dyslexic icons" such as Billy Bob Thornton, Barbara Corcoran, Joe Pantoliano, Billy Blanks, Stephen J. Cannell, and Sarah Joy Brown. As
RogerEbert.com
reviewer Odie Henderson penned, "equal parts confessional, celebrity interview, activism, in-depth discussion, and cheerleader for the afflicted. It's packaged in an easygoing 83 minutes…(that) never wears out its welcome."
Hubbell's latest endeavor,
seedling.tv
(a curated, subscription-based media platform focused on lifelong learning in the fields of best-practices education, holistic wellness, and sustainability), continues his cause-driven movement. Dislecksia: The Movie, with filmmaker and panel discussion to follow, is being hosted by Rider University Counseling Services and The Laurel School of Princeton, in collaboration with Captured Time Productions, Learning Ally, DDNJ (Decoding Dyslexia NJ), and
seedling.tv
This film's message is in complete alignment with The Laurel School of Princeton's mission. The school's administration and staff specialize in educating children grades 1–8 with language-based learning differences (dyslexia, dysgraphia, dyscalculia, et. al.) and serves Central NJ and Eastern PA, priding themselves on developing students' strengths in academics, the arts and entrepreneurship. Learn more at
https://www.laurelschoolprinceton.org
.
Dislecksia: The Movie will be shown from 7-9pm in the Mercer Room of the Daly Dining Hall - Rider University, 2083 Lawrenceville Rd., Lawrenceville, NJ. There will be a panel discussion with the filmmaker immediately following the film. To learn more about the film go to
DislecksiaTheMovie
and for more information regarding Harvey Hubbell V, contact office@seedling.tv or call (860) 567-0675.