Mission Microwave Announces Availability of 400 Watt Ku-Band BUC/SSPA
New Ku Band Gallium Nitride (GaN) based Solid State Power Amplifier / Block Upconverter Raises the Bar for Efficiency and Size – Ideal for TWT replacement in Broadcast Links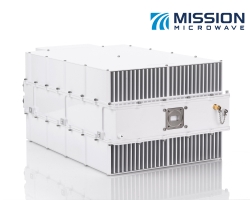 Santa Fe Springs, CA, March 07, 2018 --(
PR.com
)-- Mission Microwave Technologies, LLC, a manufacturer of highly efficient Solid State Power Amplifiers (SSPAs) and Block Up Converters (BUCs), announces the availability of the MOAB 400 Watt Ku Band SSPA/BUC. The MOAB continues the tradition established by the Stinger, Javelin and Titan products of elegant and efficient design while having the smallest possible size, weight, and power envelope.
"Our customers have eagerly adopted our range of products with power levels up to 200 Watts for mobile, transportable and gateway applications. The MOAB 400 Watt Ku Band BUC is our first high power building block and is small, light and rugged enough for mobile applications while also bringing benefits in ease of installation and power efficiency to fixed broadcast and gateway sites," offered Steve Richeson, Mission Microwave's VP of Sales and Marketing. "Rather than make superlative claims we invite customers to evaluate the 400 Watt MOAB BUC alongside others of its class. The product's obvious leadership in the categories of RF performance, weight, size and power efficiency speaks for itself."
Ideal for Gateway and Broadcast applications, the 400Watt Ku Band MOAB weighs in at 35 lbs and draws only 1300 Watts of prime power to produce 200 Watts of linear power in a ruggedized outdoor package. It is an ideal replacement for less rugged and reliable options like Travelling Wave Tube (TWT) amplifiers. Along with the Titan, Javelin and Stinger products in X, Ku and Ka Bands up to 200 Watts, Mission Microwave offers complete redundancy solutions including redundancy controllers and a state of the art Monitor and Control (M&C) interface using SNMP V3.
The Mission Microwave team will be showing the MOAB, along with their entire range of X, Ku and Ka Band products, at Satellite 2018 in Washington, DC, March 13-15 in Booth number 1225 in the center of the exhibition hall.
About Mission Microwave Technologies, LLC
Mission Microwave Technologies brings revolutionary design for RF (Radio Frequency) and microwave electronics, supporting ground-based, airborne, and space-based applications. Using the latest in semiconductor technology, Mission Microwave's focus is to minimize the size, weight, and power (SWaP) for these critical applications, while providing its customers with the best possible reliability. Mission Microwave sets the new standard for performance and reliability.
Contact
Mission Microwave
Steve Richeson
(951) 893-4679
www.missionmicrowave.com

Contact