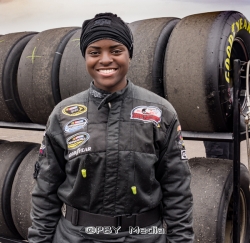 Avondale, AZ, March 21, 2018 --(
PR.com
)-- Large trucks worked furiously to dry the mile-long track at the newly-named ISM Raceway in Avondale, a small town west of Phoenix, Arizona. The purchase of the naming rights to the 50-year-old track (previously known as Phoenix International Raceway) by ISM Connect, a pioneer in smart venue technology, was official January 1st. Everyone was worried that the unusual rainfall on the morning of March 11 might spoil its first Monster Energy NASCAR Cup race in Arizona: the TicketGuardian 500. But the clouds parted, and it was a typical beautiful Arizona afternoon and another win for Kevin Harvick. While the new suites were open and information was available about the other modernizing changes coming to ISM Raceway, there was another change that has become obvious this year: the increase in diversity in NASCAR.
This is the first full year as a Monster Energy NASCAR Cup contender for Darrell "Bubba" Wallace Jr. He has risen from the NASCAR's Drive for Diversity Program, through the Camping World Truck and Xfinity Series, to earn a spot with Richard Petty Motorsports. In 2013, Wallace was the first African-American to win a NASCAR race since 1963 Wendell Scott's Speedway Park win, when he won a Truck Series race at Martinsville Speedway. Wallace came in second in the recent Daytona 500.
Wallace joins #19 Daniel Suarez, the only Hispanic driver in the Monster Energy Series, who drives for Joe Gibbs Racing. Suarez became known in Arizona when CEO Bryan Sperber invited the Mexican NASCAR Toyota series drivers to compete with the American ones at PIR and he won. He was also the 2016 Xfinity Series Champion. Suarez's participation has generated new interest, both in the US and Mexico, about motorsports.
All Xfinity and Monster Energy Series drivers will benefit from increasing diversity in another area: new members of the pit crews. If someone is strong, agile, quick and successful on the football field, can he use those same skills in the pit? Evidently! CJ Bailey came from Fayettesville State in North Carolina to become a pit crew member with Hendrick Motorsports. Jonathan Willard (formerly with the Steelers, Rams, Oakland) and Marshall McFadden (Clemson, Tennessee Titans) are recent additions to Chip Ganassi Racing's Gears of Ganassi. NASCAR actually holds combines for college athletes interested in pit crew positions, like the NFL holds for football quarterbacks and running backs.
Favian Vanderburg is in his 13th year in motorsports. He is the first Black mechanic in the Monster Energy Series, and plays a crucial role as the Tire Technician for Matt DiBenedetto and Go Fas Racing. As he says, "Only four things - the tires - touch the ground!" 
Women are not to be outdone in this sea-change in motorsports. While #7 Danika Patrick, the most successful woman in motorsports, is retiring from the Cup Series, women will be entering the industry in other ways. Brehanna Daniels, a former Norfolk State Point Guard and a member of Drive for Diversity's Crew Member Development, became the first Black woman to be on a pit crew in the Camping World Series and the Xfinity Series at Dover International Raceway in June 2017. During NASCAR Race Weekend at ISM Raceway, March 9-11, 2018, she met members of the
Photographers of Color
, a workshop, developed by professional sports photographer Hassan Kareem and business consultant Denise Meridith, that highlighted professional women photographers interested in shooting motorsports during this year's Women's History Month.
"ISM Raceway is delighted to have forged a relationship with Photographers of Color at our NASCAR events over the years, including the recently run TicketGuardian 500," said Scott Rovn, Vice President of Sales & Communications at ISM Raceway. "It's exciting to contribute to the growth of the sport by continuing to introduce NASCAR and our events to new fans. The growing fan base and diversity of the sport only adds to the excitement surrounding the modernization project here at ISM Raceway as we near our grand re-opening in November 2018."
Age is another changing demographic in the sport. Jeff Gordon, Dale Earnhardt Jr, Tony Stewart, Matt Kenseth and other iconic figures have retired. In addition to Wallace and Suarez, Joey Logano, Kyle Larson, Alex Bowman, Chase Elliott, Ryan Blaney, and others are poised to take their place. Of course, the highly competitive Harvick, Ryan Newman, Kyle Busch, Jimmie Johnson, and the other veterans are not going quietly.
Studies on everything from Wall Street to Hollywood have shown that organizations that have ethnic and gender diversity perform better than those who do not. This increase in ethnic, gender and age diversity might just be what motorsports needs to stem any declining attendance and television viewing.