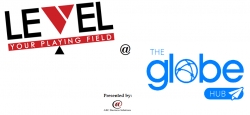 Atlanta, GA, April 16, 2018 --(
PR.com
)-- Atlanta small businesses will now have greater access and a clearer understanding of the opportunities that exists in the multi-billion dollar Federal and Corporate contracting space through the "Level Your Playing Field at The Globe Hub" partnership. ARC Business Solutions, a Consulting firm that helps small businesses access and understand Federal and Corporate procurement and The Globe Hub, Atlanta's newest coworking space is the home of several small businesses that has been awarded over $125 million in contracts to date. This partnership is sure to set a new standard for businesses seeking to win big in the Atlanta area.
Through a series of reduced cost Certification and Government Registration Workshops, events and other resources, small business owners now have the tools and resources to compete for some of the most lucrative contracts in the US and grow their bottom lines much more rapidly. The United States Federal Government is the world's largest purchaser of goods and services and is obligated to award a minimum of 23% to small businesses. The 2018 budget is $1.1 Trillion which equates to approximately $252 Billion for small businesses.
Less than 1% of small businesses currently compete in the Federal and Corporate procurement process, and ARC's Founder and Managing Partner Amy Reese says her mission is to change the landscape for good: "This is a highly under-tapped marketplace," says Reese. "Most small businesses don't know where to start with the process and automatically believe they could never win a contract."
The Level Your Playing Field at The Globe Hub initiative will be the site of multiple workshops designed to help businesses understand the differences between Federal and Private Industry (Corporate) Contracting. Assessments will be given to determine which area of contracting would allow the best growth opportunity; business leaders can then become enrolled in the appropriate tract.
In addition to workshops, there will be a variety of events and resources aimed at assisting business owners in their growth, including a mentorship program in which emerging business owners can be matched with and mentored by well-established business owners.
For more information about Level Your Playing Field at The Globe Hub or to register for upcoming workshops, visit
TheGlobeHub.LevelYourPlayingField.com