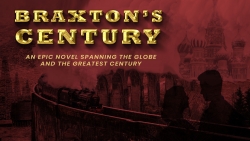 Sacramento, CA, April 17, 2018 --(
PR.com
)-- New author J. R. Strayve, Jr. has written a novel that early readers compare to the historical fiction storytelling of multiple bestselling author, Ken Follett. Being likened to an novelist with over 160 million books sold is high praise for any author, especially a brand new one.
"Braxton's Century" tells the story of a British aristocrat from birth in 1866 until his 100th birthday. As a young boy, he is surrounded by the rarefied world of his fictional royal family. Protagonist Prince Braxton is typical of the men in classic 19th Century romance stories. He is brilliant, strikingly handsome, talented, and ambitious. Readers will be mesmerized as Braxton builds fame and fortune in London, Vienna, Venice, St. Petersburg, Moscow, Tokyo, Calcutta, San Francisco, Colorado, and New York. The novel follows an interesting cast of characters including Braxton's mother, a Contessa who became a Princess before being crowned Queen Mercedes.
Historical Fiction fans can learn more about the book by visiting the book's website www.BraxtonsCentury.com, where readers can download a copy of the first chapter. On the site, they can click on a link to the
Publishizer Crowdfunding page
to learn more about how author J.R. Strayve, Jr. plans to interact with his readers, solicit their input on final cover design and invite them to participate in the book's formal launch this summer.
Here are some early reader comments sent to the author:
"...I really liked the first chapter. Really captivating, great character development already and well written. I'm ready for the rest of the book! (I left the manuscript on the plane purposely. Hopefully it will spread virally)" - Tom Lein
"...I received the first chapter of your book. I downloaded and read it in bed last night. I have to say, I totally enjoyed reading it. It was as if I was in attendance to all the going on. Can't wait to get the book so can finish reading it. It is definitely my kind of story." - Lin Haymaker
J. R. Strayve, Jr. has a bit of Author James Thurber's daydreaming character Walter Mitty in him. The father of three adult children and three grandchildren, creating stories for them was one of the best parts of parenting for this true creative.
"Braxton's Century" came to life after Strayve suffered an accident in 2016 and was only able to work part-time as a Financial Planner in San Diego, California where he still lives. Fatigued and weakened by illness, he passed out while working out at a gym. After the accident it took a few months to regain his strength, so he would go for long walks to exercise and refocus his thoughts. He says that during those walks in the inspiring beauty of San Diego, he reverted to the "daydreaming, window gazing, wildly imaginative" days of his youth which gave birth to Prince Braxton.
Strayve's favorite person history is Winston Churchill who was born in 1875. His familiarity with the time-period, vivid imagination and literary license gave birth to this gripping page-turner that readers say is hard to put down.
About Z Girls Press
Z Girls Press is a Hybrid Indie Publisher and the non-fiction imprint of Calling Card Books. The Mission of Calling Card Books is to produce books that Educate, Inspire and Inform. Our Vision is that our books help the general welfare of the reading public by working with authors whose message can transform lives. Our non-fiction authors are experts who can teach, preach and inform or people whose life story is inspiring and will make a difference in the lives of others when shared. Our Fiction authors are creative individuals in all walks of life, who write engaging stories that similarly open minds like our Non-Fiction experts do. To order your copy of "Braxton's Century," visit
www.BraxtonsCentury.com
or www.callingcardbooks.com. Bulk orders welcome.