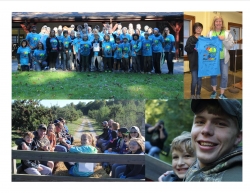 Quarryville, PA, April 19, 2018 --(
PR.com
)-- "We're All in This Together" is the theme of the 12th Annual Tourette Syndrome Family Camp June 8-10, 2018 hosted by the PA Tourette Syndrome Alliance. "Our Keynote Speaker is traveling in from Canada," according to Sara Woolf, Camp Coordinator. "We are so pleased to have Stuart Ellis-Myers, also known as 'Twitchy,' coming to share his motivational story with our campers," said Woolf.
Scheduled to be held at Black Rock Retreat in Quarryville, PA, this yearly camp has separate tracks for children with TS & their siblings, and their parents or caregivers. Everyone learns, socializes and leaves with a new sense of belonging and acceptance.
This is the first year the camp will be held at Black Rock Retreat. According to Woolf, "One of the most requested amenities is private rooms so that families can relax after a full day of activities, and Black Rock Retreat will meet this need." The Retreat Center has 60 private rooms and "we have booked them all so that our organization is the only one in attendance for the whole weekend," said Woolf.
"This camp experience is often the first time a person with TS has met another person with Tourette Syndrome of their age," stated Woolf. This neurological condition affects about 1 in every 333 people but the symptoms fluctuate and vary widely between individuals, so it is rare to meet others in the community just by chance.
The focus this year is on building community and working together to gain knowledge and support for the various pieces of TS and the comorbid disorders. Woolf explained "We will have presenters on hot topic issues surrounding TS, panel discussions, family team building, adult pampering, and a variety of kid's camp activities." All this is included in low cost of $160 per person and only $130 for those under 13, because we are supported by a grant from the PA Department of Health.
Each year the PA Tourette Syndrome Alliance receives positive feedback following camp such as: "we have finally found our home," and "my kids can't wait to come back." Many families return year after year to be a part of this experience.
Registration is open until two weeks prior to camp. There are several ways that you can fundraise your way to camp and scholarships are also available. Please see our webpage at
http://www.patsainc.org/News-and-Events/Conference-Camp.aspx
for more information.
PA-TSA is a non-profit that has provided support, information, education and disability advocacy for those with Tourette syndrome in Pennsylvania since 1985. For more information contact Sherrie Sponseller or Sara Woolf at 717-337-1134.