The Nurses Learning Center Announces the Launch of the Largest Tutorial Database for Student Nurses and Aspiring Nurses in the U.S.
Where can students go when they have failed the nursing entrance tests such as the HESI, HESI A2, TEAS A5 or the TEAS, even the NCLEX Boards? A graduate nurse who fails their boards, cannot reinvest thousands of dollars to re-enter nursing school and spend another 3 years of their life in school. The Nurses Learning Center team of nurses have stated that they are ready and waiting to help.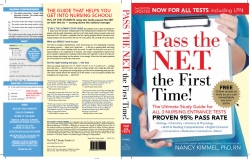 Garden City, MI, April 27, 2018 --(
PR.com
)-- The Nurses Learning Center has come to the forefront of the news lately, do to the fact that they have made the announcement of having one of the largest tutorial databases for nursing students in the U.S. That's a fairly robust statement to make. So we decided to investigate further and find out, what exactly, this organization has to offer and to whom it is being offered. According to Dr. Kimmel, the Nurses Learning Center is a place where aspiring nurses and those student nurses getting ready to take their boards can come to study an pass. That's a powerful statement. When Dr. Kimmel was asked what makes the Nurses Learning Center so different from other online tutorial sites, she stated, "We have hundreds of nurses and nurse educators who have developed questions for the nursing school entrance and exit exams. Many of these nurses are educators at local community colleges and universities. But, what really makes this site special is that every single nurse cares about helping students pass their boards." It would seem that combing all so much intelligence and education under one roof, would make for an impressive array of challenging questions. With such a small company, their progress has been impressive to say the least. Since 2011, they have helped thousands pass their nursing entrance tests which has helped these students get into nursing school. According to U.S. News and World Report, it is predicted that there will be a nursing shortage in 2020. It would seem that helping students get into nursing school and also pass their state nursing boards will be a benefit not only to the health care field but most importantly to the patients.
Contact
Nurses Learning Center
Nancy Kimmel
313 826 2381
https://www.nurseslearningcenter.com

Contact