Omnidya, New Platform That Enables Live Negotiating for the Service Industry Through AI, Exhibiting at Collision 2018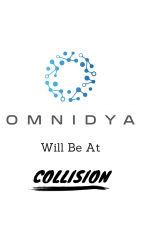 Los Angeles, CA, April 30, 2018 --(
PR.com
)-- Omnidya, the new platform making history by being the first to enable live negotiating in the service industry, will be exhibiting at Collision 2018.
Omnidya uses artificial intelligence to create win-win scenarios between enterprises and consumers for deals on insurance, travel, wireless services, and more; enabling consumers to spend less time finding the most cost-effective option.
Omnidya also takes customer care seriously, and aims to enhance customer engagement through AI. Their intelligent chatbot, Omnibot, provides around-the-clock assistance, answering questions and addressing concerns to provide the most positive experience possible for consumers.
After a successful time exhibiting at SXSW, the company (which has been bootstrapped thus far) is looking forward to their initial fundraising round and forging more partnerships at Collision. The company's nine-person team, which includes David Thrash of Oracle Applications and Akshay Vachhani of Morgan Stanley, is looking forward to making waves in InsurTech and the general service industry.
"We are a company built on empowering consumers and giving them the ability to save time, effort and money by unleashing the power of artificial intelligence," says Kumar Patel, CEO. "Our bots will learn each consumer's need and shop online for the best bargain without them having to spend time searching for one. We want you to focus on the most important things in life, instead of spending hours on shopping and comparing auto and home insurance, or booking flight and travel arrangements for your weekday getaway."
Omnidya will be exhibiting in ALPHA area 4 on Wednesday, Day 2 (May 2nd), at stand A 418.
Contact
Omnidya
Kumar Patel
(657) 234-3690
www.omnidya.com

Contact